TWO families are now homeless after a fire of unknown origin destroyed a double-flat building at Lot 214 Section 'A', Block 'Y' Golden Grove Housing Scheme, East Bank Demerara on Saturday night.Persons living in close proximity to the gutted house, owned by Roy and Sheila Valenzuela, were critical of the response from the Diamond Fire Station, whose fire-fighters turned up at the scene with no water and with an unserviceable pump.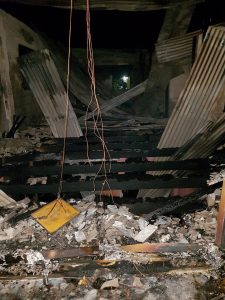 The fire station is located along the public road on entry to the Diamond Housing Scheme, and is less than five minutes' drive to the scene of the fire.
The fire, first seen in a bedroom in the upper flat of the building, reportedly started at about 20:15hrs while the tenants were out, and destroyed all the belongings of tenant Troy Lodge and his family, who resided in that flat. The tenant in the bottom flat, Marlin Alec, managed to save several items.
The owners of the building, noting that it was fully furnished, have estimated their losses in terms of millions of dollars.
MORUCA DISASTER
And quick thinking and action by two nurses attached to the Kumaka District Hospital at Santa Rosa in Moruca, Region One, have averted what could have been a disaster that originated when a faulty electrical fan cable caught fire near the nurses' station at about 21:00hrs on Saturday evening.
The nurses reportedly spotted the cable sparking prior to its catching afire, and one of them managed to haul a gas bottle out of the facility while another extinguished the blaze. The lone fire extinguisher at the hospital has been unserviceable for some time, persons at Moruca reported on Sunday.