WHILE a team from the City Council is meeting in Mexico on the issue of installing parking meters in Georgetown, several councillors on Monday questioned why they could not gain access to the parking meter contract that was signed recently.Furthermore, one councillor questioned why, at the last statutory meeting, the Council was not informed of the reason for this visit to Mexico; and what the purpose of the visit was, considering that the contract was already signed in May.
The team in Mexico includes Mayor Patricia Chase-Green, Town Clerk Royston King, Councillors Oscar Clarke and Junior Garrett.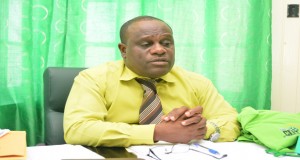 Councillors were, in the past, promised that they would be able to peruse the contract and provide their feedback. To date, however, the contract has not been made available to either councilors or the public.
"Is the contract available for our perusal?" questioned Councillor Akeem Peter, who reminded the Council that they were supposed to be able to study the contract and make their input.
Acting Deputy Mayor Sharon Harry-Munroe responded that all agreements and contracts are signed by the Town Clerk, and are therefore kept by him. She said King would have to be consulted before the contract could be made available.
SERIOUS MATTER
Councillor Salima Bacchus-Hinds, however, stood up to remind councillors that this is a very serious matter. She offered that the Town Clerk did not sign a personal contract, and hence that contract needs to be in the public record.
Councillor Welton Clarke said procedure seems to be lacking, and that the parking meter issue ought to be trashed out intelligently.
"Why are they only now in Mexico? Should this visit have been done long ago? At the last meeting, we were not informed about the reason for this visit. Should we have been included in this?" Clarke questioned.
He commented that the group in Mexico does not have any "fresh blood" in it, so as to bolster councillors' confidence in the details coming out of the meetings.
"Are we waiting on the results to make a final decision? If some of us are not privy to decisions, how are we to be a part of them? The route that we're taking seems confusing to me. I'm not clear if there's a contract; I'm not sure if we will see parking meters this year," Clarke stated.
Councillor Roopnarine Persaud said the parking meter issue is troubling.
BILLS, BILLS, BILLS
"It is a monopoly that we cannot afford here. It is not fair. I will not be a part of it, to saddle my constituency with this type of bill. We cannot riddle them with bills and bills and bills."
Persaud said a broad-based consultation was needed, as opposed to only a few persons who are going after the installation of parking meters.
Having listened to everyone's view on the parking meters' debacle, acting Mayor Sherod Duncan informed the Council that he had made known his views via email to Chase-Green and King just before they left Guyana.
He assured councillors that their questions would be put to King and Chase-Green when they return.
In a social media post recently, Duncan had voiced his refusal to support the parking meter system, citing a lack of verifiable information on the parking meter company.
He said he was provided with little information by National Parking Systems' (NPS) Smart City Solutions from which he can make a quality judgment.
"In my research, I have not found any company by the name 'Smart City Solutions' associated with parking meter systems in any of the places the company is purporting to have done business, like Panama," he said.
Further, he said that in his independent research on Simon Moshevilli, who represents Smart City Solutions, he has found no one with said a name connected with the said company. In fact, he said, there is no evidence that such a company even exists.
"Again, the total lack of verifiable information on the company and its capacity to execute the scope of the project, and in the absence of a contract on the proposed project, I cannot offer my support (to the project), and reaffirm my grave reservation of such a venture," he declared.