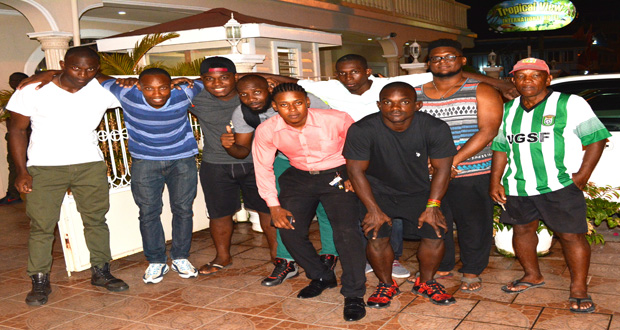 By Stephan Sookram
GUYANA'S rugby team will be going all out today in search of victory when they host the Barbados National team in the first round of the Rugby America's North (RAN) 15s campaign.The 16:00hrs match at the National Park will bring the win-hungry Jags against their Barbadian counterparts and will test the quality of the squad who have been in training for the last three weeks.
Chronicle Sport sought a comment from the skipper of the 'Green Machine', Richard Staglon, late last evening who contended that his charges are raring to set the National Park afire, come today.
"We are looking forward to using our usual aggressive style of play and a bit of tweaking from Larry (coach Adonis) has got things a bit more interesting, a bit more exciting style of play," contended an upbeat Staglon.
With the full backing of his side, Staglon threw out a strong message to the foreigners ahead of today's game, reminding them that Guyana are calm and ready for a fight.
Meanwhile, coach Adonis contended that, "Right now I think we're really ready and I think that the players are peaking right now. We are ready to go. We had to hold these guys back and don't let them on the field this afternoon (Friday) because they are so prepared to go."
Their opponents, the Bajans, who have already claimed the underdog tag, arrived yesterday afternoon and immediately went for a training session at the National Park, already showing their readiness for a battle to the death against the indomitable Green Machine side.
Coach of the Barbados side, Romeo Mayers says that the task of upsetting a side like Guyana on home soil is one that is tough but not undesirable, considering his unit.
"I believe anything is possible but I will leave everything on the pitch. I don't know how the day will turn out but we don't come to play not to win, we play to expect a positive result," said Mayers.
The last time the teams met here, Guyana took no prisoners in brushing the visitors aside 48-22.
Following this encounter, the local ruggers will return to training for a match against Jamaica on May 21 and Trinidad on June 19.
Their successes will determine if they move on to play the winner of the Northern Zone for the overall RAN title, following which they move onto other Qualifiers for a chance at the Rugby World Cup.