by Petamber Persaud
Small Presses and the Guyana Prize
You can read many meanings in the just released shortlist of the 2014 Guyana Prize for Literature.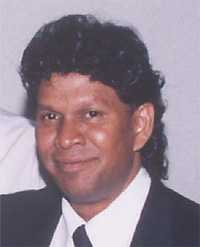 I will just touch on one aspect now. The relatively new Caribbean Press has now added significantly to its monumental achievement with two of its publications making the shortlist of the Prize.
Those two books are namely 'Rasta Lyrics' by Cedric Castello, and 'The Hinterlands' by Stanley Niamatali, both are debut collections of poems.
The Guyana Prize for Literature is once again a talking point of (part of ) the tongue. While (all) eyes will be focused on the writers, some of whom will emerge winners, let's remember one of the main players behind the scene – the publishing houses especially the small presses that saw merit in the work, enough to encourage them to invest in a precarious business. Book publishing is no easy joy walk on the Kitty seawall; there are too many vagaries to be considered including marketing, distribution, piracy and sale.
Here I hasten to include the contribution of other 'small' publishers/presses. I use 'small' cautiously because in this piece I will not concentrate on self-published books and manuscript submissions, both of which will warrant separate treatments. Please note that imprints that were created for the sole purpose of publishing a single title for submission to the prize will also find space devoted to those efforts.
Following are examples of the efforts made by small presses whose publications appeared on various shortlists of the Guyana Prize for Literature over the last three decades, tabulated in no particular order.
'Role Play' written by Roopnandan Singh and published by Roopnandan Singh Publication (in conjunction with the Association of Guyanese Writers and Artists) made the shortlist in 2000 under the fiction category. Incidentally, that book was listed alongside two other books which did not advance any further in the competition. (Yes, there were/are some juicy stories attached to this eventuality. I like telling stories but…)
'Cornerstone' (poems) and 'In Retrospect' (poems) by Elly Niland, and 'Our lady of Demerara', (novel) by David Dabydeen, published by Dido Press, UK, all made it to the shortlist, two going on to win the prize in their respective categories. Dabydeen's novel won in 2004 while Niland's poetry won in 2006.
(Anand Kumar and partners set up the Dido Press to publish mainly Guyanese literature and it was funded out of pocket.)
'Kyk-Over-Al' 1995 published by Red Thread Women's Press was awarded the Guyana Prize Special Award in 2000.
'Selected Poems: Martin Carter' was published by Demerara Publishers and went on to win the poetry prize.
'Janjhat' by Rooplall Monar was published by Roraima Publishers in 1992 alongside three other books, one of which went on to win and the other given a Special Award.
'Estate People' by Rooplall Monar was published by Roraima Publishers (1994) appeared on the 1994 shortlist along with five other books, two of which went on to win in various categories of fiction.
'The Comfort of all Things' (poems) by Ian McDonald published by Moray House in 2012 appeared on the shortlist with two others entries, one a published book and the other a manuscript; that book went on to share to top prize with the manuscript.
Too often we see only the end product in a long line of machination it takes to publish a book. Publishing houses play an important role in the promotion of literature. A major aspect of literature is publishing – book publishing. Writers are important, so too are editors, literary agents, critics, readers, proof readers etc, etc, etc. Book publishing is not a consideration in the determination of the winner/s of a literary prize. But book publishing could tell a lot about the development and direction of a people's literature.
Hats off to the small presses making their imprint on the shortlist of the Guyana Prize for Literature; be encouraged to continue the good work of adding strong writings to our literature.
What's happening:
GEMS Theatre Productions will be staging 'EXPRESSIONS 3' – poetry and prose performances – at the Theatre Guild, Playhouse in Kingston on Thursday December 3rd, 2015, with a show at 1.30pm for schools and at 6.30pm for general audience. For further information – Tel: 226-0240/53557; Cell: 624-8694
(Persons wishing to respond to this author can telephone (592) 226-0065 or email: oraltradition2002@yahoo.com)