GUYANA, like many nations across the world, continues to face an uphill task in its fight against domestic violence, particularly violence against women. Already, for the period January-October, 2015, seventeen women have been brutally killed, many by their jilted lovers.But the Social Protection Ministry has pledged never to give up this battle. In observance of the "International Day for the Elimination of Violence against Women" — November 25 — the Ministry yesterday launched 16 days of activism, starting with an exhibition on the Avenue.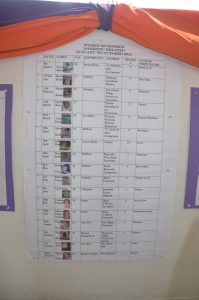 During that exhibition, persons from all walks of life were educated on the negative impact of violence on the society, and the need to bring an end to violence against women. In an interview with Guyana Chronicle, Social Protection Minister Volda Lawrence said major attention will be placed on the family. She explained that many victims opt to remain in abusive relationships because they lack the support of their families.
"Our family system is broken, and many times, persons who are in abusive relationships do not have that family support, so they remain silent," she opined.
Through the Commission on the Family, the Social Protection Ministry will reintroduce the concept of family as a support mechanism, thereby creating an avenue for women to walk away from abusive relationships, knowing that they will be supported.
Minister Lawrence warns: "It is not going to be a quick-fix." The Commission, she explained, will not only discuss the issue, but based on its assessment, will establish programmes specifically for communities that have high incidences of domestic violence.
"That Commission will work with the communities and NGOs in those communities to understand the challenges that are causing people to remain silent. Base on the findings, the Commission will formulate programmes to address the issues affecting families," she said.
In the coming days, the Commission will be gazetted and, according to the Social Protection Minister, its members have already been identified.
"In identifying those persons, we looked for persons with varying backgrounds and experiences, who will be able to bring a holistic approach; those who would have had experiences from the justice system; persons from faith-based organisations; teachers, social workers, persons who will bring their experiences to bear in the communities," the minister said.
Once gazetted, Minister Lawrence said, "it will roll into operation."
In sending a direct message to women who continue to live in violent relationships, the Social Protection Minister said, "Life is Precious," as she urged them to value their lives. She said it is time women stop putting material things and their relationships in front of their lives.
"Many of our women put a relationship or commitments in front of their very lives, so I want to ask them today to put premium on their lives. Just think about tomorrow; the problem is here today, but it will go tomorrow," the minister advised.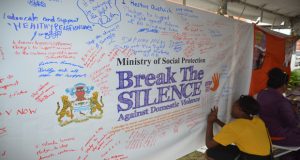 She is also urging victims of domestic violence to consider the damage being meted out to their children. Studies have shown that approximately four million children between the ages of three years and 17 years are exposed to domestic violence. Even if they are not physically abused, they often suffer emotional and psychological trauma, having lived in violent homes.
Meanwhile, during the '16 Days of Activism' programme, the Social Protection Ministry will be moving into at-risk communities. "We are going to widen the scope in terms of meeting new people, in terms of people whom we would not have interacted with prior to today," Minister Lawrence explained.
In addition to the exhibition, the Ministry held a football match at the Eve Leary ground in an effort to raise awareness. Another match will be held in Region Nine. "We are also reaching out to the New Opportunity Corps to speak to the young people there," she disclosed.
She noted that a string of workshops will be held across regions Four and Five in areas where there are high incidences of domestic violence.