FORMER Minister of Home Affairs under the People's Progressive Party (PPP) administration Ronald Gajraj, has filed a $40M lawsuit against his successor Gail Teixeira and this newspaper, for defamation of character and libel over statements made about him, which were revealed through a U.S. diplomatic cable released by the Wikileaks website recently.A report carried by this publication saw Teixeira implicating Gajraj in a number of activities related to the General Register Office (GRO). Teixeira reportedly provided to the U.S. government, information that suggested that Gajraj was allegedly involved in corrupt activities.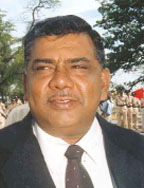 At a press conference held at the PPP headquarters in Robb Street yesterday, Teixeira objected to revelations currently publicised through the leaked Wikileaks, contending: "I have not been able to access the Wikileaks that Chronicle is referring to; but in all of these cables and any mission, any government, foreign missions send what is called briefings to every single meeting we have….In those cables, they put their own personal assessments.
"The way the Chronicle article is written, [it is] as if certain things which were the Charge d' Affaires' opinion are put over as if I [had] said that. I did not."
Teixeira has, however, admitted that there was rampant corruption at the GRO during her tenure, and she emphasised that she and former Police Commissioner Winston Felix had been inundated with reports from the U.S. Embassy of fraudulent passports and fraudulent birth certificates.
"The American Embassy was asked by me to please provide evidence of these fake documents. Now, the GRO ones were particularly disturbing, because they were actually authentic birth certificates with the watermark of the GRO, with the signatures of people who worked at the GRO, but the information on them was false. Those persons didn't exist; and from that false document, it then created another false document -– fake passports.
"The passports were real, they were genuine, but the persons on [them] were not real; and it was that evidence I asked for from the Americans. The Americans brought me also fictitious marriage certificates… As a result of this, action was taken to have investigations, and there were several police investigations under Mr. Felix as Commissioner of Police," Teixeira said.
Appointed Guyana's High Commissioner to India after his tenure as Home Affairs Minister had ended, Gajraj is claiming defamation of character as a result of "certain callous slanders" spoken by Teixeira and published by the Guyana Chronicle on Tuesday. He is claiming $10M for defamation of character by both Teixeira and this publication; $10M from this publication for publishing the statements, which he considers libellous; and he is requesting aggravated and punitive damages in excess of $10M from both defendants.
The former Home Affairs Minister has also filed for an injunction to restrain the Guyana Chronicle from "repeating or republishing said or similar libel of and concerning the plaintiff."
Filed on Tuesday, the lawsuit was served on both Teixeira and this publication yesterday. The named parties to the action are required to make an appearance in court 10 days after the Writ has been served.
By Ariana Gordon