By Rabindra Rooplall
SIXTEEN headteachers will now benefit from duty-free concessions to purchase vehicles, and the Finance Ministry is currently processing more than 30 names to receive this facility, according to the Guyana Teachers' Union (GTU) General Secretary Coretta McDonald.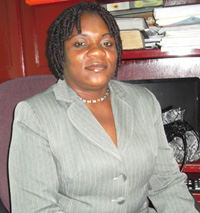 At a press conference held yesterday at the GTU headquarters on Woolford Avenue, McDonald said, "Approval has been given, and very soon, they [teachers] will be driving their cars along the streets of Georgetown, Essequibo, Berbice, Linden, Bartica and other places."
Among those teachers are: Kamal Persaud, Kathlene Armstrong, Magna Bethune, Zailmoon Samad, Gwenette Sam, Bernadette Lewis, Chandradee Kanhai, Paul La Cruz, Susan Rhius, Vernell Razack-Giles, Deborah Greenidge-Hinds, Juliet Mattis, Avril Lake, Georgieanai Lewis, Paulette Merell and Beverly Henry.
To qualify for duty-free concession, a teacher must have been a headteacher for at least three years, and have at least five years of employment before retirement.
McDonald said the outstanding list has been going back and forth, but has finally received approval from the relevant authorities. "We are still awaiting final approval for a final 30 to complete this, but we are hoping [that], pretty soon, in some days ahead, we will be able to receive these names."
She said there are other head teachers who are awaiting their duty-free concessions, and said that theirs was not as tedious as the present set of 45.
She admonished the Education Ministry and the relevant agencies and officials who would be dealing with the duty-free concessions and approvals not to make the process seem cumbersome, since the process can entirely be finalised in two weeks.
"We should be able to finish this whole business of duty-free when we submit names in a matter of two weeks, because GTU has information on our teachers, the Education Ministry's Personnel Department has the same information we do, so we should not have that long-drawn-out period," McDonald said, adding:
"It is sometimes very frustrating and fatiguing when headteachers have to be going back and forth and going here and there; so we are asking to sit together as partners, and complete the list at one end, so when we send off to the other end, which is the Ministry of the Presidency, that we would be able to cut back on the time it usually takes to have the duty-free concession issue dealt with."
The Guyana Teachers Union has, over the years, submitted several lists of the names of teachers who have qualified for a one-off duty-free concession. The union has, since 2009, been behind the Education Ministry to obtain duty-free concessions for eligible head teachers who have been within the teaching profession for over 30 years.
Teacher Samad, the head teacher of the Leonora Primary School, said she was "ecstatic" at the news, since she has been waiting since 2009. "God is always in charge! I was looking out for this for a long time, since 2009. But, you know, God is in charge and the time is right," she said.