A 37-year-old woman, struck down on the Prospect Public Road by a speeding 'Pitbull' minibus, overtaking another two weeks ago, remains hospitalized at the Georgetown Public Hospital (GPH).
She suffered severe head injuries a fractured pelvic bone, multiple fractures to the limbs and abrasions about the body.But even though the victim, Odessa Sarabo, was picked up and rushed to the Diamond Hospital that afternoon, the incident seems to have escaped the memory of the investigating Police.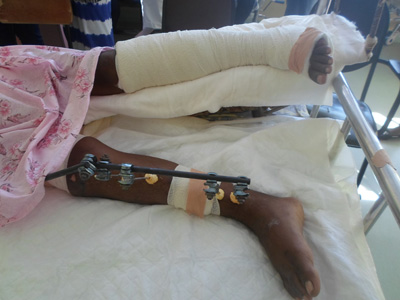 Two weeks have now elapsed and the police have never visited her in hospital to take a statement on the accident.
Could it therefore be a case of dementia or just a plain dispassionate police rank?
Relatives of the injured woman recalled that around 15:45 hrs on September 27, she was at the pedestrian crossing, in the vicinity of the Prospect Gas Station, when a minibus stopped to allow her to pass. As she stepped off, the "Pit Bull" minibus travelling at a fast rate, came from behind, overtook the stationery bus and slammed into her.
On impact the woman was hurled about ten feet ahead and landed on the roadway. The driver, confused, got out of the bus and did nothing to help the woman in distress, but reportedly began shedding tears and declaring that it was trouble for him, since it was not his bus.
The police arrived on the scene and took the injured and badly bleeding woman to hospital. At the hospital she was stabilized, given oxygen and prepared for evacuation to the GPHC. However, her dispatch was delayed since there was no driver on duty to drive the ambulance to Georgetown.
On eventual arrival at the GPHC, she was x-rayed and found to have suffered severe head injuries, a badly bruised face, multiple fractures to both legs, bruises to the left arm and the abdominal region. A CT-scan done also showed that Sarabo had sustained a fractured pelvic bone, the effects of which she is still suffering.
The driver of the minibus that caused the accident was taken into police custody and later placed on bail. Relatives say the driver once visited the patient in hospital, but never returned. The police, on the other hand, never made the time to visit her to take a statement, leaving both the woman and her relatives to concede that they (the police and the driver) have no further interest in the matter, even though no settlement was agreed on.