THE Opposition People's Progressive Party made no bones about it yesterday that any call for 'unity talks" must first be put into context. Speaking to members of the media yesterday at Freedom House on Robb Street, Georgetown, PPP General Secretary Clement Rohee drew reference to a statement by President Granger saying that his government "remains committed to inclusionary democracy, and is prepared to consider executive power- sharing with the opposition PPP."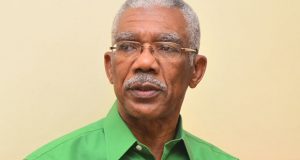 With reference to another from Minister of State Joseph Harmon saying that the PPP should submit a written response and not engage in a battle of words in the press, Rohee said Harmon spoke as though there is already an agreement between the two sides to engage formally, and that the process should begin with an exchange of correspondence on the modalities for talks when there is none.
Noting that this was furthest from the truth, Rohee said the PPP is yet to receive any formal communication on the matter, and will not be requesting one either.
Said he: "There is much confusion in the APNU+AFC camp on this matter, and it seems best that the alliance settle their internal differences, and put their house in order before any attempt is made to engage the PPP."
The PPP's claims, in this respect, ought not to be undervalued or under-estimated, Rohee said as a "groundswell reflecting these concerns is building up slowly but surely, while the problem with the new Administration is that they have persistently sought to frame a political agenda for the PPP."
The claim by some that the party is "betraying what Jagan stood for," he said, has absolutely no basis in fact. "A few examples will suffice to set the record straight. Further, the claim that the PPP is "intent on throwing obstacles in the path of National Unity in order to ensure its own ethno-political dominance is rejected," Rohee said, adding:
"We know full well that we cannot choose for the APNU+AFC Coalition, but at the same time, the APNU+AFC must be aware that the PPP is in no way desperate to engage both the APNU+AFC. This will be tantamount to a double kiss of death for the PPP; a reality it cannot ignore."
DUE CARE AND ATTENTION
Meanwhile, Rohee stressed that being the opposition party they have to exercise due care and attention in respect to any formal engagement with the government outside of Parliament.
He contended that cooperation within the parliamentary structure and arrangements cannot be avoided but engagement with the A Partnership For National Unity/Alliance For Change (APNU+AFC) outside of Parliament is clearly political and there is no guarantee that agreements reached will find their way in the appropriate body to make them legally binding.
However, President David Granger has reiterated that the government remains committed to inclusionary democracy and is prepared to consider executive power sharing with the opposition PPP.
At the last General and Regional Elections, the governing coalition of APNU+AFC secured some 51% of the votes cast, and Granger has since contended that it would not be prudent for the government to lock out the PPP.
"We have at all times aimed at having inclusionary democracy and inclusionary government, so that the 49 per cent don't feel locked out," he had said, pointing out that Prime Minister Nagamootoo was on spot when he told Berbicians two Saturdays ago that the administration is open to a national unity government with the PPP.
Granger said that national unity is part of the philosophy of the coalition, pointing out that there should be some form of sharing, some form of national unity and some form of inclusionary governance.