FORMER Ministers of Government under the People's Progressive Party Civic (PPP/C) Robeson Benn and Bibi Shadick were yesterday sworn in as Commissioners of the Guyana Elections Commission (GECOM) by President David Granger at the Ministry of the Presidency.
"GECOM is now back up to strength and is capable of discharging its responsibilities, I'm quite sure that you are impressed with the words of the Oath, and I'm confident that the commissioners will discharge their duties without fear or favour affection or ill will," President Granger said briefly following the swearing in.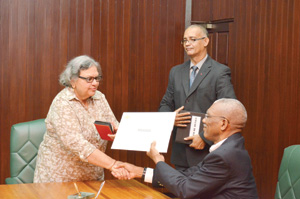 He said that thanks to GECOM Chairman, Dr. Steve Surujbally, Chief Elections Officer Keith Lowenfield and other GECOM officials, elections in Guyana are now on a stable footing. "An air of stability has returned to Guyana," he said.
Notwithstanding his congratulatory remarks, the President referenced Jamaica and Trinidad's ability to announce elections results in a matter of hours after the close of poll, stating that he is hopeful that Guyana would be in the same position.
"So, congratulations! And we look forward to the performance of your duties to ensure that we continue to have elections in Guyana, which are credible and which receive the support of the Guyanese People," the president said.
The new appointees have replaced Mohamood Shaw and Athmaram Mangar, and have joined Commissioners Sase Gunraj, Vincent Alexander, Charles Corbin and Sandra Jones.