BOARDS of Directors for the State-owned Guyana National Newspapers Limited (GNNL)and the National Communications Network (NCN) were finalised at last Tuesday's Cabinet meeting.The announcement was made yesterday by Minister of State Joseph Harmon, who also announced the appointment of the board for the Guyana National Broadcasting Authority (GNBA).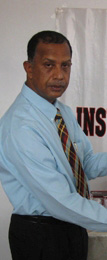 Harmon said the boards have not yet been gazetted, but this will be done in the new week.
Jean La-Rose of the Amerindian People's Association will chair the GNNL (Chronicle) board, while Chief Executive Officer (CEO) of P&P Insurance Brokers and former Chairman of GNNL, Bish Panday, will chair the NCN Board.
Jean La Rose is a key leader in the Amerindian struggle for full rights to traditional lands. She has served as the Programme Administrator of the Amerindian People's Association (APA).
Meanwhile, Leonard Craig has been named as the Chairman of GNBA.
Chairpersons for the Guyana Water Incorporated (GWI) and the Central Housing and Planning authority (CHPA) will be disclosed at a later date.