GREENLIGHT Guyana Educational Project Inc. has conducted its 8th Annual Awards Ceremony, at which it honoured 19 students of La Retraite Primary School on the West Bank of Demerara for success achieved at the recent National Grade Six Assessment Examinations.The non-profit, New York-based organisation, headed by founder Ms. Salome Osborne, presented awards to the students for outstanding performance in a number of areas during the ceremony held at La Retraite Primary School last Tuesday, August 17.
The ceremony was witnessed by the graduands' fellow students, teachers, members of the Parent-Teachers Association (PTA), and those of the wider community.
Special recognition was conferred on the top two students, Kaydonna Scotland and Bibi Hamid, for their individual successes. Incentives presented to other graduating students were on the basis of: 'most outstanding academic history', 'most improved student', and the 'most academically achieved'.
Other special guests at the ceremony included Head Mistress Roseanne Alleyne; past student and teacher, Mr.Allan Robertson; retired school teacher, Ms Grace Syfox; community activist Ms Bridget George, and several teachers.
In her charge to the students, Ms Salome Osborne emphasised the importance of education in the life of every individual. Exhorting the students to be persistent in reading, and pleading with parents and guardians to work diligently with their children in this regard, Ms. Osborne stressed: "Education takes you places".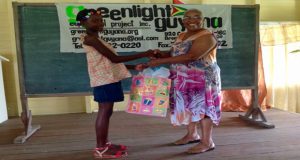 Reading, she said, would give them a competitive edge over others in their academic life.
Ms Osborne took special note of the concern expressed by most parents and guardians in attendance — their children's lack of interest in reading.
Also offering remarks at the ceremony was Mr. Allan Robertson, who urged the new high-schoolers to stay focused and be positive in their approach to their new adventure.
As part of its humanitarian mission, GreenLight Guyana also distributed clothing and footwear to the residents of the community. The Parent/Teachers Association of the La Retraite Primary School also expressed heartfelt gratitude for the organisation's generosity over the last several years.