GUYANA experienced a light earth tremor around 11:20hrs yesterday. The tremor awakened residents from several parts of Georgetown, leaving questionable facial expressions as the country was also faced with an inundation.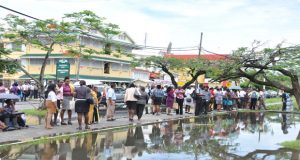 The tremor lasted for about five seconds and brought business to a brief halt. After the incident, many took to social media to say how they felt about the incident.
Persons who were travelling in floodwaters said the tremor caused them to pause, assuming an earthquake was forthcoming. Many also expressed the same view, where some assumed it was a just their "imagination".
The staff of the Guyana Revenue Authority (GRA) rushed to the streets in panic, after the tremor shook the building. Many who were in tall buildings also rushed to the street, assuming the buildings were collapsing.
The tremor is said to have originated from a second earthquake of 6.4 magnitude, some 125 kilometres in the ocean north-east of Barbados at approximately 11:16hrs.
The first earthquake however, was of 5.7 magnitude and occurred around 07:00hrs at the University of the West Indies Seismic Research Centre. The earthquake was then felt in St. Vincent and the Grenadines, St. Lucia, Venezuela, South Trinidad and Guyana.
The earthquake is solely blamed for causing tremors in these Caribbean territories, most of which measured a 6.5 magnitude.
Persons living on nearby Martinique also indicated that they felt the tremor. Fortunately, there were no reports of damage in any of these countries.
Magnitude is used to describe the energy generated by an earthquake and is determined by the area that ruptures during the earthquake, the amount of displacement during the earthquake and the stiffness of the rocks that breaks.
Guyana has experienced several tremors before. November 2007, however, recorded two powerful tremors from a 7.4 magnitude earthquake in the Caribbean Sea near Martinique. Buildings experienced loud shakes as persons panicked.