HIGH on the agenda of His Excellency David Granger and his soon-to-be-sworn in Administration will be to accelerate infrastructural and economic developments with CARICOM and Guyana's other immediate neighbours.During his first official day in Office as Guyana's 8th Executive President, Brigadier Ret'd Granger held brief meetings with the CARICOM Secretary General, Irwin LaRocque.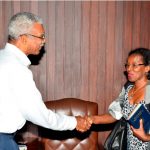 According to President Granger, his meeting with Mr. LaRocque was a deliberate decision he made, as he noted the importance of meeting with Guyana's most important neighbours.
"It was a deliberate decision of mine that we should meet with our most important neighbours first and CARICOM is at the heart of the economic development of Guyana; and in terms of not only courtesy, but also in terms of policy (and) I felt it was my duty to meet with our Caribbean neighbours first."
The Head-of-State, at the Office of the President, also met with Brazil's Ambassador to Guyana, His Excellency, Mr. Lineu Pupo de Paula; and Venezuela's Ambassador to Guyana, Her Excellency Reina Margarita Arratia Diaz.
Speaking of his meeting with the Brazilian Ambassador, President Granger alluded to the fact that the two countries have always had cordial relations and his Administration will be working to strengthen those ties.
"…We would like to accelerate the pace of some of the projects, particularly for infrastructure and other economic ones; I've already discussed with Carl Greenidge, who has been identified as the Foreign Minister, to place extraordinary importance on economic relations."
Brazil, which has the longest land frontier to Guyana, President Granger pointed out, is also a member of the Brazil, Russia, India and China group (BRIC), and has one of the fastest growing economies in the world.
Meanwhile, issues discussed during the President's meeting with the Venezuela Ambassador include the continuation of the Good Officer Process, that speaks directly to the dealings of territorial matters.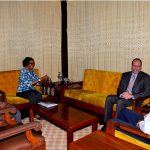 According to President Granger, the Good Officer process forms part of the menu of measures prescribed by the Charter of the United Nations and is very important to both countries.
"As you know, Venezuela is an important neighbour, and in terms of Petro Caribe, the economic importance of Petro Caribe, as well as other strategic dimensions of Guyana/Venezuela relations."
Summing up the three meetings, President Granger said that they were all extremely important in terms of foreign policies and moreso the internal economic vision and policy of his Administration.
Yesterday's meeting, for the CARICOM Secretary General, was seen as a very strong signal of Guyana's commitment to CARICOM's integration arrangement and to the brotherhood of Caribbean civilisation.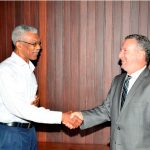 Considering it a great honour to have met with the President on his first day in Office, Mr. La Rocque said the discussion was centred on Guyana's role in CARICOM and about the integration arrangement.
Like the Brazilian Ambassador, His Excellency Mr. Lineu Pupo de Paula, La Rocque said he is looking forward to working with President Granger and his Administration.
His Excellency Mr. Lineu Pupo de Paula, also opined that he is looking forward to working with the new Administration on some key infrastructural projects, including the Linden to Lethem road, and a hydro plant in the Mazaruni. (GINA)