AS the Guyana Elections Commission (GECOM) continues tabulating results of the Regional and General Elections, The Carter Center is urging the major political parties and their leaders to act responsibly.Dame Audrey Glover of the United Kingdom, a co-leader in the Carter Center Mission here monitoring the elections, speaking at a press briefing at the Pegasus Hotel yesterday, called for patience among the parties'supporters.
She urged that the process proceed to its conclusion, reflecting the dignity that their constituents displayed on Election Day.
On Monday, she said, Guyanese turned out in large numbers to cast their votes in what is probably the most important election since the watershed elections of 1992.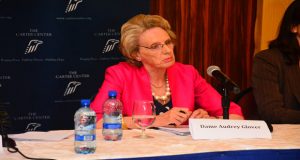 Guyanese voters waited patiently in long lines from early in the morning until into the evening.
All across the country, thousands of dedicated poll workers, party agents, and officials of GECOM served with honesty, integrity, and professionalism, she said.
"GECOM officials and poll workers are to be commended for these efforts.All Guyanese should be proud of what transpired on Election Day. This is especially true because their efforts took place in an atmosphere of tension and anxiety that, unfortunately, was generated by key political leaders who played on fears during the electoral process.
RUMOURS
"Rumours and allegations of provocative confrontations between ruling and opposition supporters swirled throughout Election Day. On closer inspection by international observers, most issues, with only a few exceptions, turned out to be largely unfounded or easily explained. In spite of such attempts to sow discord, Guyanese generally remained calm, cast ballots, and retired for the evening while their votes were counted and transmitted to GECOM throughout the night," the senior official of The Carter Centre observed.
On Election Day, Carter Centre observers visited 297 polling stations in all 10 regions, or about 13 percent of the total stations, providing a relatively high degree of observation coverage.
Carter Centre observers witnessed opening, polling, closing, and counting procedures in all areas. In addition, the centre's teams are currently in nine of the 10 regions to observe the work of GECOM returning officers.
Dame Audrey Glover said overall, The Carter Centre observers reported a generally calm and peaceful atmosphere throughout Election Day.
POSITIVE
The implementation of procedures, she said, was rated positively at all stations observed during the polling period, and no major irregularities were reported.
There was a strong presence of political party agents at polling stations visited, the envoy said, pointing out that A Partnership for National Unity+Alliance For Change (APNU/AFC) agents were at more than 91 percent of stations visited.
The People's Progressive Party/Civic (PPP/C) agents were also active, being at more than 90 percent of the stations visited.
The observers found a positive environment in almost all polling stations. Carter Center observers reported a positive overall assessment of the electoral process and environment at 98 percent of stations visited.
During the counting process, statements of poll were completed according to procedures in polling stations visited, and party agents and domestic observers were invited to sign and received copies of the results, the observers noted.
But they also observed tension along party lines in a few areas, which may have contributed to the delay in transferring electoral materials and processing results.
"GECOM and the police coordinated a response to these issues that improved the transfer of materials," Dame Audrey Glover said.
She said while Guyana has an abundance of resources, rivers, forests, and mines, its greatest resource, however, is its people.
But neither the Guyanese people nor the country as a whole has been able to develop to their/its full potential because of the political mobilisation of ethnic and racial differences by the main political parties.
RIGHTFUL PLACE
"The Carter Centre sincerely hopes that now that the people have expressed their will peacefully and with dignity, Guyana's political leaders will assume their responsibilities and respective roles as the next Government and Opposition, and will make a great effort to unify the country and strengthen accountability so that Guyana can grow and develop to take its rightful place in the world," Dame Audrey Glover said.
Jason Calder, Assistant Director from The Carter Centre's Global Development Initiative, said although former U.S. President Jimmy Carter had to leave Guyana before Election Day, he was able to meet with key political leaders and other members of Guyanese society.
"Guyana and its people hold a special place in my heart, and I would like to thank them for the well wishes they expressed for me," Carter said.
"I had a bad cold, and am feeling much better now. Democratic elections have winners and losers, and it is important for politicians to display leadership and magnanimity as Presidents Desmond Hoyte and Cheddi Jagan did at key moments in the past. I believe that the people of Guyana — especially its youth — want a future based on an inclusive, democratic society that benefits all Guyanese,"Calder quoted the former US President as saying.
The Carter Centre plans to remain engaged in the immediate post-elections period.
By Tajeram Mohabir