IN WHAT was one of the most responsive People's Progressive Party/ Civic (PPP/C) public meetings last evening, supporters of the ruling party and the political Opposition were vociferous in expressions of support at the corner of Alexander and William Streets, Kitty.And party stalwart, Dr.. Roger Luncheon tailored his message for both groups, even as supporters of the alliance of A Partnership for National Unity and the Alliance For Change (APNU+AFC) paraded the corner with APNU flags and PPP/C supporters countered with rebuffs of their own and cheers of endorsement.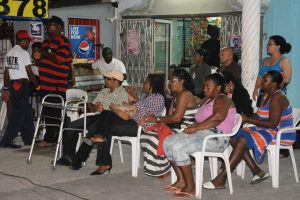 Dr. Luncheon's quintessential undertaking was to highlight that "fewer people" are being tricked into "slavish" devotion, by a political Opposition that advances a notion that they have a "transport" of the votes of sections of the Guyanese population.
"Fewer and fewer people are being tricked by this nonsense of slavish devotion…the Guyanese people have demonstrated that the future belongs to the PPP/C, they said it in 2001, in 2006 and again in 2011," he said.
A RECORD PAST DENIAL
Dr. Luncheon added, "This alternative that APNU+AFC is trying to foist on us is nothing but trickery, mockery…they cannot deliver the goods. They have no right in the ring…no right to challenge the PPP/C Administration to govern this country…no one can challenge this party on its record, it is a record past denial," he said.
Dr. Luncheon was emphatic in underscoring the fact that the PPP/C is the only national unity that has advanced development that benefits all Guyanese – equitable development.
He stressed that the vision of the PPP/C is a clear one that advances a Guyana that Guyanese deserve and want – a stronger economy, better health care and education, encouragement of investments, as well as advances in the social and other sectors – all with an interest of improving the lives of the Guyanese people.
"It cannot be denied, the proof is there and the statistics (of progress) are there…we could have done more if the Opposition had worked with us….we can do better once we have the chance…this bunch of miscreants, anti-democratic, dictatorial APNU+AFC is the biggest threat we have today," he said.
FIGHTING FOR OUR SUCCESS
According to him, the fight of APNU+AFC is for what has been accomplished by the PPP/C – the successful restoration since 1992.
"As they feast their eyes all they can think about is putting their filthy paws on Guyana. How often are we, Guyanese, are we going to allow these make-believe to take charge and destroy and then hand over and tell the PPP/C come restore…they mash up, they bruk up and then we restore. We must never allow this to happen again."
Dr. Luncheon, a Kitty resident, noted that the history of APNU+AFC is revealing.
He said, "We cannot escape a consideration of the past. The old people say when you forget the past, you may have to repeat it…the past of Guyana under the PNC is a nightmare that none of us wants to have fall on another generation of Guyanese. It has happened and we cannot deny that. What we can do is ensure that it never happens again.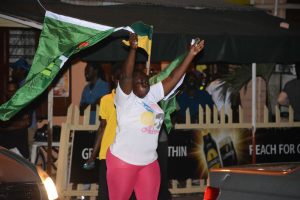 "…their history is all about intimidation and bullyism taken to the extreme…you have no reason to believe this has changed. The very same people who practice that intimidation, that bullyism and attack on democracy are here today, saying they have unity at heart."
According to him, the 28 years had to be recovered, corrected and changed by the PPP/C Administration. "We had to recover this country from 28 years of destruction…they did not uphold the promise of a future," he stressed.
He referred to the former finance minister, Carl Greenidge, and the dismal state of Guyana's economy under the PNC administration.
"He left this country without hope," Dr. Luncheon.
INTELLIGENGE OF GUYANESE PEOPLE
On that note, he stressed that the intelligence of the Guyanese people cannot be insulted and the actions of the former PNC Administration, not the majority partner of APNU+AFC, cannot be ignored and allowed to pass without impunity.
"What we lost in those 28 years (of PNC rule) was a whole generation…we have to put APNU+AFC in their place, not in front, but behind us," he stressed.
Dr. Luncheon noted that the notion of power "corrupted" the former administration, a dilemma that has seeped into the APNU+AFC alliance.
The track record of the PPP/C, however, according to him, speaks for itself.
"Where we are in 2015 tells you what we have been able to do…tens of thousands of Guyanese are energised by the People's Progressive Party/ Civic message…in every part of Guyana we are taking our message…it is a message that resonates and one that people can relate to," he declared.
In addition to Dr. Luncheon, three other speakers took the platform, last evening, to stress the PPP/C's calls – vote for a stable and secure Guyana on May 11 by supporting the ruling party.
By Vanessa Narine