GIFTLAND President Roy Beepat boast Thursday that its Turkeyen Mall will be the entertainment mecca of Guyana, featuring fine dining, American sports bars, Brazilian grill, British pubs and coffee shops.He made the declaration at a press conference Thursday to update the media on nightlife at the Mall's 'Entertainment Strip', which he said would be unlike any other, and boast first-class service.
As a prelude to the grand opening, billed for May 26, Beepat promised to update the media every fortnight on the happenings and progress of the construction, since the building was build based on the needs of Guyanese for the ultimate shopping experience, which is paper-free, and all debit and credit cards would be accepted.
He said that Giftland Mall is a friendly, secure, and family-oriented environment which is easily accessible. The Mall is also self-sustained with its own power plant, sewerage treatment system, and deep water well.
The media was granted a first-hand tour of the 500-seat restaurant, which will be offering 16 food choices to cater to the diverse and varying tastes of Guyanese.
Beepat noted that the Giftland Mall will have 20 free drinking fountains, 500-plus car parking, 150-staff parking, with separate delivery area.
He pointed out that the Mall features 120 different vendors designed for consumers to spend leisure time, with large walkways and modern video arcade facilities for both children and adults.
Beepat said the Mall will be opened 363 days of the year, the exceptions being Christmas and Good Friday. The weekly opening hours for stores are 9am to 8pm Mondays to Thursdays; 9am to 9pm Fridays and Saturdays, and 10am to 6pm Sundays.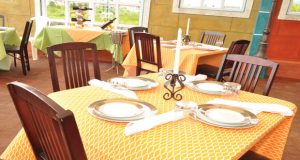 The Mall will be offering fast-food courts and special services up until 0pm; and the cinemas, video arcades and entertainment strip would remain active according to customer demands and negotiations, he added.
Beepat also told reporters that services offered at the Mall will be one-of-a-kind, with quality services which entail high-end customer service that is on par with international standards. He said the security is in good hands with the Trinidad and Tobago-headquartered Amalgamated Security Services backed up by security cameras which will be camera monitored.
Present also at the head table during the press briefing yesterday was Monica Beepat, Director of the Giftland Mall; Shareholder Mahendra Persaud, Chairman and Chief Executive Officer of Nand Persaud Company; Giftland Property Manager Christian Bautista, and Wayne Clark of Amalgamated Security Services.
(Michel Outridge)