IN observing the second anniversary of the Enterprise Youth Development group (EYDG), it has decided to execute two projects in one week, a football camp and the donation of pampers to elderly.According to the President of the EYDG, Samantha Sheoprashad the first activity was held under the sports leader of the group, Mr. Travayne Sheoprashad, who along with the Sports Unit executed their first ever sporting activity "A Football Camp" which was sponsored by the Ministry of Culture, Youth and Sports.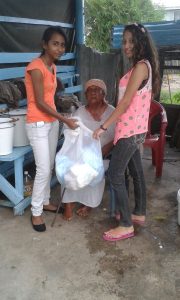 The football camp involved intense training of football routines which would equip players with necessary skills required for the game.
Sheoprashad stated that as a result of the training, the young players are expected to represent their team "Net Rockers" in competitions in the near future, as the training was done to empower and encourage the interested youths to push for their dreams in playing the sport.
"This training was conducted by Mr. Mark Bradford who continuously professed the importance of discipline and focus when playing the sport," she said.
Meanwhile, the second activity held under the group's health leader Ms. Surbrena Latchman, donated pampers to elderly and bedridden folks in the village of Enterprise.
This marked their second distribution to persons in the village, as the project was well conducted by mostly females who went around the village to distribute these pampers.
"The project was focused mainly to give young people a chance to exercise ample amount of leadership within this organisation hence giving back to their community in many spectrums" said President of EYDG, Ms. Samantha Sheoprashad.
In conclusion the EYDG wished to thank all those who supported them in making these projects successful, most importantly for all the support they have gotten in order to survive for two years. The above projects were made possible by the Ministry of Culture, Youth and Sports, Boodram's Bakery, Angdeshwar Rickheeram of New York and Aunty Raj of Enterprise.
By Navendra Seoraj