MEXICAN outsourcing giant, Qualfon, yesterday opened a new US$12 million 'contact centre' campus at Providence, East Bank Demerara which, when fully completed, will be the largest in the world.The campus, located behind the Guyana National Stadium, houses two separate contact centre operations buildings and 3,500 works stations.The first contact centre operations, a 57,000 square-foot building called 'Qualfon Guyana 111' that includes a training centre and cafeteria, was opened yesterday. It is expected to begin operations in May.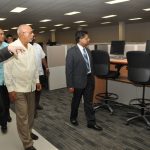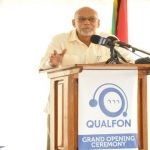 In addition to Qualfon Guyana 111, the campus construction plans include a second 114,000 square-foot contact centre as well as a community centre, interfaith chapel and healthcare clinic.
All told, when fully completed, the campus outfitted with solar power panels, green building materials, a rainwater collection system, and an onsite wastewater treatment facility, will provide jobs for some 6,000 persons.
The company began operations here in 2005 following a visit from Alejandra Romero, who is now the Executive Vice President of ATAM and Global Solutions.
On her visit, on landing at the Cheddi Jagan International Airport (CJIA), Timehri, she saw an airport with hardly any light and no Automated Teller Machine (ATM) to withdraw money from her debit card.
She was left stranded, but was lucky to locate a generous taxi driver Wazeed Manjoor, who took her to her hotel in Georgetown on no extra charge, and on the promise that he will be paid when she gets access to her money.
Finance Minister Dr Ashni Singh said given the setbacks Romero encountered, had she received a snub from Manjoor, it most likely would have resulted in a premature death for Qualfon here.
But the kindness of the unassuming taxi driver caused it (premature death) not to happen, paving the way for the creation of a new industry through the establishment of Qualfon, the largest private employer in Guyana, providing employment for thousands of Guyanese.
Manjoor, a taxi driver for some 35 years and a father of two, was present at the opening, and in an invited comment, he told the Chronicle that he was pleasantly surprised when he was called to grace the occasion.
President Donald Ramotar, addressing the gathering of senior management and staff of Qualfon, top government officials and members of the private sector, said Manjoor is a model Guyanese, and a true ambassador of his country.
He said for Guyana to continue to grow and develop, ever citizen has a role to play as everyone is an ambassador of his country.
HUMAN CAPITAL
This, the President said will ably complement the Government's efforts to develop its human capital, which is vital for Guyana to move to the next level, and be among the best in the world.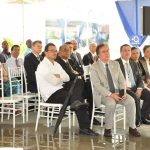 "The most important factor for development is not just all the natural resources that we have, because people tend to talk about that a lot, and it is true, it is important, I am not trying in any way to play down the importance of those things, but life has shown us that the most important factor for development is the quality of the people that the country will have," the President said.
He added: "To know that, you can only look around the world, and looked at countries that are developed and rich and look at countries that are poor…I will tell you that some of the countries endowed with most natural resources in South America and Africa have the worst kinds of poverty that you have seen, and there are other countries with very little resources (natural resources), countries like Japan which has a high standard of living, a powerful economy, because they have a highly educated and highly qualified workforce."
EDUCATION
President Ramotar said this is the direction the Government has been going, pointing out that great attention is being paid on spending to develop the Social Sector, with Education receiving the largest slice of the budgetary pie.
"That is why over a period of time we have not only achieved the Millennium Development Goal of having Universal Primary Education…we are right now on the verge of having Universal Secondary Education in Guyana."
The President said too that very soon, the minimum level of education in Guyana will be a secondary education, noting that his Government is striving to create a workforce that is comparable to any and second to none in the world.
This, he said, is very important as it will allow investors to tap into a quality workforce capable of accelerating development both in the private and public sectors, and the country as a whole.
President Ramotar also pointed out that the Government will be focusing attention on more investments in Information Technology (IT) to modernise traditional industries and create new ones.
All secondary schools, he said, will be outfitted with computer laboratories in the near future, as efforts continue to make every citizen computer literate. Following a recent discussion between President Ramotar and Indian Prime Minister Narindra Modi, the Government is also looking to establish a world class IT centre in Guyana that can serve South America and the Caribbean.
That centre is expected to be built at Providence, and will be of help to companies like Qualfon.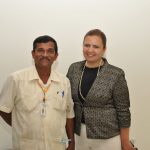 The President also said that his government is looking to put more of its services on the Internet, to fight the perception of corruption. Through these services, persons will be able to apply for work permits, waivers and houselots with greater efficiency.
TRANSFORMING LIVES
Finance Minister Dr Ashni Singh commended Qualfon for expanding their footprint in Guyana, noting that the investment is not only a reflection of their confidence in the economy, but is one that will transform the lives of thousands through job creation.
He noted that, in Guyana today, things have changed significantly, pointing out that there are lights and ATMs at the CJIA, and Government is looking to upgrade and expand the airport to cater for large carriers and more direct flights to the US.
Qualfon Chairman and Founder Alfonso Gonzalez thanked the government for helping his company set up shop here and his local staff for making the operation a success.
He said Qualfon is about changing lives and is guided by the motto to make the lives of its clients and employees better.
Qualfon is a people-driven Business Process Outsourcing (BPO) company and a global provider of contact centre services and back-office processing.
The company has over 11,000 employees serving international brands across many industries, with locations in the US, the Philippines, Guyana, Mexico and China.
In a visit to Guyana in 2014, BPO Industry Analyst and Global Programme Director at Frost and Sullivan, Mr Stephen Loynd, described Guyana as "strategically positioned to be a major player because of the fact Guyana's population speaks English as a first language, has a high cultural identity to the United States, has one of the highest literacy rates, and offers a cost structure that directly competes with India and the Philippines".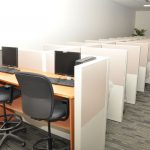 (By Tajeram Mohabir )