THE convicted murders of 16-year-old Neesa Gopaul will appeal the High Court ruling that resulted in their receiving a collective life sentence of 202 years.The mother of the teen, Bibi Shareema Gopaul, and her ex-lover, Jarvis 'Barry' Small, were sentenced by Justice Navindra Singh to 106 years and 96 years respectively on March 5.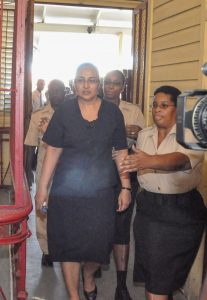 Small's attorney, Mr. Lyndon Amsterdam, in a telephone interview yesterday, told the Guyana Chronicle that the appeal for his client has not yet been filed, but that will be done soon.
According to him, Small's defence team is current finalising grounds for the appeal.
The other attorneys-at-law representing Small are Glen Hanoman, Bernard De Santos SC, and Zanna Frank.
Bibi Shareema Gopaul is represented by Attorney-at-Law, George Thomas, who, when the ruling was handed down, gave an oral notice of appeal in the matter.
Bibi Gopaul's parents confirmed yesterday that work on the appeal is underway.
On March 5, both convicts had expressed dissatisfaction with the judgment passed by Justice Navendra Singh. "I did not have a fair trial in this court," Small had said, adding that prejudicial evidence had been entered in the case, and the judgment had been for political purposes.
According to Small, there was no evidence to convict him or anyone of the murder of Neesa Gopaul, and the judge was being unfair because he was a politician by nature.
That sentiment was rubbished by Justice Singh, who responded emphatically, "I don't have any political ambitions."
Bibi Gopaul's sentiments were similar to Small's. She contended that the judge could have done more in her favour.
The 12-member jury panel had consulted for some three hours before delivering a guilty verdict.
The sentencing of Bibi Gopaul, also called Naree, was detailed as: 60 years for the capital offence; 10 years for premeditation; 10 years because it was a child; 10 years for brutality; another 10 years because it is her daughter and she did not protect her; and six years for domestic violence.
The sentencing of Small, on the other hand, was detailed as: 60 years for the offence of murder, with 10 years added for premeditation; another 10 years for brutality; an additional 10 years because the victim was a child; and finally another six years for domestic violence.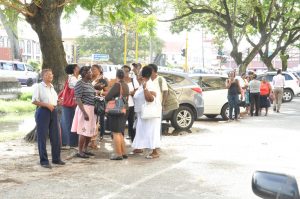 On October 2, 2010, the headless remains of Neesa Gopaul were discovered at a location along the Soesdyke/Linden Highway tucked inside a suitcase that was partially submerged in a creek. A rope had been wrapped around the suitcase, and dumbbells were attached at one end, apparently in an effort to keep the body under water.
Besides the body, a passport bearing the name Neesa Lalita Gopaul had also been found. The teenager was reported missing just days before the gruesome discovery was made.
Subsequent to the discovery of the body, Bibi Gopaul and her ex-paramour, Jarvis 'Barry' Small, were arrested and charged for the murder.
Members of the public, who had gathered outside of the High Court on March 5 with placards demanding justice, were vocal in expressing their satisfaction with the verdict that was handed down.