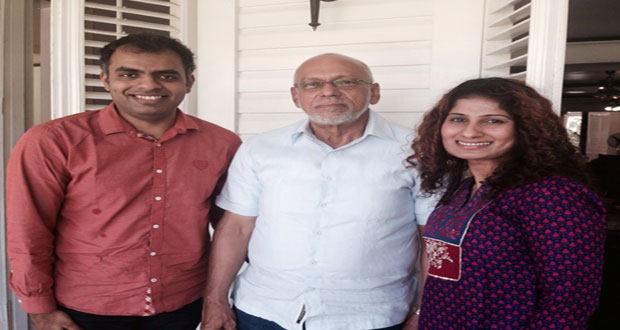 SOME people are just born to make a positive difference in the lives of others; and once placed in the correct forum, they can certainly create wonders.
Just recently, I had the opportunity to mingle and interact with a spectacular young woman based in the USA, who, through her many exploits and natural drive to make a change, has created a forum where people's voices can be heard and experiences shared in a manner that is more than stirring.
Today, Diane Bacchus-Ouddus and her friend and business partner, Ashwin Srisailam (from India), have created 'Ahhaa', a positive website blog that allows persons to share their stories with intent to make an inspirational impact on others.
Ahhaa is a positive social networking platform which is about people inspiring people and helping each other. Persons can access this network by following the link to the app, which is (https://itunes.apple.com/in/app/ahhaa/id956446219?mt=8)
Mrs Quddus believes that people are fundamentally kind and caring, and she and her partner are passionate about highlighting that to the world. Ashwin, who had been a monk for 17 years seeking life growth from the tender age of thirteen, and Diane, a mom of two who started working from the age of nine to assist in supporting her family, have together founded Ahhaa a little over a year ago.
Both have always been very certain about living a life of making a difference. As such, they are spreading the app in numerous colleges and schools in the U.S., Europe and India; and to mention a few, Columbia University, CUNY, NYU, WVU, Brooklyn Latin School, John Adams, Richmond Hill High School and many others globally.
Many organisations – like the Boys and Girls Club, Yuva Unstoppable, OYE, FEED and others — are also using the platform. Ahhaa is collaborating with Adobe, SAP and many other corporations to bring corporate wellness of the mind through this inspiring initiative.
Neither Diane nor Ashwin has any previous background in technology, but today they have a unique platform that is spreading at a rapid pace. Some of their advisors are from prestigious universities and leading companies, inclusive of William Gaudelli, (Chairperson of Columbia University), David Fryson, (Dean of Dept of Diversity, Equity and Inclusion, WVU), Patricia Obenauf (Senior Professor of Associate Studies, WVU), Sharon Bush, from the presidential family and in laws to Ralph Lauren, and Neil Srivatsan, leading architect of SAP.
The Ahhaa platform is constantly growing, and is bringing a positive impact to society.
How it all began…
The two talented souls met in New York, and during their interaction came up with the agreement that, 'for any and everything, there is the Internet'.
One day, Ashwin was walking around and feeling very lost; so, on his mind's prompting, he got to a computer and began browsing. He googled 'lost' on the Internet, then 'confused'; and digesting all the information that swarmed before him, he became smitten with the thought that there was absolute need for a forum to be created for people to inspire their colleagues.
He shared his idea with Diane, and not knowing just how to get started, they both decided to embark on the venture.
"We began emailing each other the ideas that popped up in our minds, and soon after, we were on the road to what has emerged to be quite a social networking forum today; (it) is geared at inspiring and helping others. Persons can share their stories there, since everyone has a story. You never know who you are stimulating and giving courage and confidence by telling your story…"
Diane left Guyana at the age of thirteen; but even when she was here on the local shores, she was always drawn to the life stories of persons who were making a difference in society.
The two friends discussed strategies on making their intended initiative a success, and began looking for 'developers'. They soon found individuals from India, Pakistan and the USA who all embraced their drive, and soon to come was their logo, designs and other assorted materials needed.
The website became a reality just over seven months ago, and both persons, colleges and other institutions have since loved it. Later the app was launched at the West Virginia University, and similar launches are made at the Teachers College, Columbia University and at other related facilities.
This app has been accessed and utilised by popular celebrities, grand-daughter of Senior U.S. President George Bush, and youths from all walks of life. Here they are given a platform to let their voices be heard on bullying, abuse and other issues.
Of course, being younger, Diane had no idea that she would have drifted in this direction; but she was always a dreamer and a visionary, and was naturally drawn into this circle. Originating from New Amsterdam in East Berbice, she has been the youngest of nine children, and had endured a hard childhood as so many others have done.
"At nine years of age, my mom would bake bread and I had to go around with my basket and sell it to neighbours and passersby, to bring in an extra dollar in the home. This I had to do after school, and return home (afterwards) to complete my homework before eating whatever was prepared for dinner.
"I (had) always thought that there was much more to life, so that made me the naturally humble and very considerate person I am…," Diane disclosed.
While she was at Hunter College, she was doing three jobs at the same time just to ensure she was successful in all her endeavours. "My aim is to reconnect humanity to positivity, and this website initiative is certainly an excellent way in which to affirm my belief…," she said.
Diane left Guyana just Wednesday last, but will be returning in the near future to take the initiative to the next level here in her native land.
This platform teaches new ways in which social media can play a positive role in creating a positive impact in our environment and the lives of our kids and people at large. In recognition of Earth Day 2015, Boys and Girls Club of Metro Queens also partnered with 'Ahhaa' to showcase all the acts of kindness we do for Mother Earth.
Visit the website and download the app, and start sharing images and stories of inspiration regarding the small acts that you are doing daily to protect your neighbourhood. They will create a large impact on our planet. (The acts can be from recycling, picking up garbage from your streets, to planting a tree. In short, anything that will sustain planet Earth. The app is currently available for iPhones and iPads, and in April 2015, be available for androids too!
Download the iOS app at https://itunes.apple.com/in/app/ahhaa/id956446219?mt=8 and join with the many others participating and sharing how they are making a difference in their neighbourhoods due to a post they saw on Ahhaa.
By Alex Wayne