ANOTHER Surinamese airline has set its sights on Guyana's skies, according to Private Sector Commission (PSC) Executive Member, Ramesh Dookhoo, who yesterday announced that 'Fly All Ways' out of Suriname has made an application to add Guyana to its routes.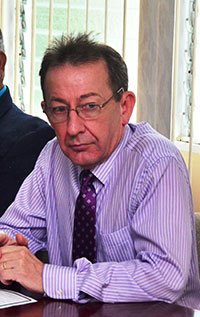 He was at the time addressing media operatives on the Guyana/Suriname Trade Mission to be hosted at the Guyana International Conference Centre today and tomorrow.
Asked about possible risks involved in entering the local aviation industry, an optimistic Dookhoo told media operatives: "There is obviously an operator who sees some opportunity in operating in Guyana."
He expressed hope that news of another airline operating in Guyana will bear fruit in the coming months, and serve to assist in cross-border commute, including from other Caribbean countries.
ACCESS TO GUYANA
Dookhoo said that for some Caribbean countries, access to Guyana can prove to be challenging, given the sizing of their aviation assets.
This company, he said, will assist in alleviating this problem.
Meanwhile, PSC Executive Member, Eddie Boyer, who was also on hand when Dookhoo made the announcement at the entity's Waterloo Street Head Office, reminded those present that Guyanese are currently living in a day and age where it is possible to travel to their neighbouring country to the east and back in a single day.
CROSS-BORDER COMMUTE
According to Boyer, in Europe cross-border commute and trade works to the advantage of those countries, a practice that should be emulated in this Region as it relates to Caribbean countries as well as other South American countries such as Brazil.
"Sometimes it's quicker to get to Brazil via Suriname," said Boyer, who added that such linkages will form part of the discussions at the Guyana/Suriname Trade Mission, meant to create more of a business outlook on how, going forward, such associations can be better utilised.
President of the Tourism Hospitality Association of Guyana (THAG), Shaun McGrath, who was also present at the media update, reported on the initiatives to be pursued by the Association with its Surinamese counterparts aimed at boosting a joint tourism drive.
JOINT PACKAGES
He said that meetings are scheduled for today between tour operators in Guyana and Suriname, with a view to developing joint tours.
According to McGrath, Suriname benefits from a significant number of visitors from Europe, which is something that Guyana would like to capitalise on through joint packages that would see the European visitors adding Guyana to their destination.
He said that THAG wants to see more joint packages being offered, whereby visitors can land in Guyana and travel over to Suriname, or vice versa.
(By Gary Eleazar)