Veteran driver and one of the most recognisable names/faces in motor racing in the Caribbean Mark Vieira and 2014 Caribbean Champion Kristian Jeffrey will represent Guyana at the December 13 – 14 Race of Champions, set for the Land of the Flying Fish.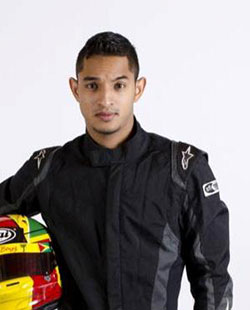 A host of driving legends from the major forms of motor sport will assemble for the Race of Champions in Barbados, to discover who's the fastest of them all.
The 2014 Race Of Champions will be held at the Bushy Park Circuit after the Caribbean venue beat off a wide range of contenders from all around the world to host the prestigious motor sport event.
The annual end-of-season contest, which has been held for over 25 years now, brings together the world's greatest drivers from motor sport's major disciplines – including Formula 1, World Rally, Le Mans, MotoGP, Nascar, IndyCar, Touring Cars and the X-Games – and sets them free to battle head-to-head in identical machinery.
In recent years the Race of Champions has visited the Stade de France in Paris (2004-2006), London's Wembley Stadium (2007-2008), the 'Bird's Nest' Olympic Stadium in Beijing (2009), Düsseldorf's ESPRIT arena (2010-2011) and Bangkok's Rajamangala Stadium (2012).
ROC organiser Fredrik Johnsson said: "We have been overwhelmed by the response to our Venue Vote over the past few weeks.
We received over 14,000 votes for a mix of different stadiums and circuits all over the world – which will join our list of venues under consideration for future ROC events.
As for 2014, the Bushy Park Circuit was one of the most popular venues in our vote and we are very excited to be heading to Barbados as we assemble some of the world's greatest drivers for another festival of motor sport and entertainment.
Newly renovated this year to become a multi-purpose motor sport facility, the Bushy Park Circuit has a 40-year history of hosting big racing events. Situated a short drive from the Barbados capital city Bridgetown and the international airport, the circuit has now been extended from 1.3km to a licensed FIA Grade 3 circuit just over 2km long with capacity for tens of thousands of spectators. The redevelopment also features a new clubhouse and pits complex along with a drag strip and a kart track.
Now the Bushy Park Circuit will play host to its biggest motor sport event yet as Race of Champions 2014 heads to the Caribbean island.
The Barbados venue will house Race of Champion's specially constructed tarmac track with two parallel lanes linked by a unique crossover bridge. Drivers will pair up for the Race of Champions Nations Cup, this year taking place on December 13, ahead of the individual Race Of Champions the next day.
The venue will also feature the new Race of Champions Skills Challenge course, which has been specially designed to test a range of driving skills including chicanes, slaloms, 360˚ and 180˚ turns and parallel parking.
"It's an honour to represent Guyana at such an event," said Kristian, whose father Kevin is one of the Region's top drivers also.
Both Kristian and Mark Vieira will be the first Guyanese to participate at such an event and it's the first time the Caribbean will play host to one of motor racing's marquee events.
"Not every day you get to rub shoulders with some of the people you admire in motor racing and I hope to make the best of it, and hope that Mark and I would do Guyana proud," the younger Jeffrey said while speaking to Chronicle Sports recently.
(By Rawle Toney)