PRESIDENT Donald Ramotar yesterday pledged his government's continued assistance to religious-based medical institutions, "so that together we can enhance the quality of health services for all the people of our country."He made the committment while delivering the feature address during the official opening of the Davis Memorial Hospital Dental Clinic, as part of the Seventh Day Adventist Hospital's programme of activities to mark its 60th anniversary of medical missionary work here.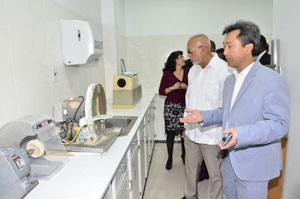 President Ramotar recalled attending Sabbath services and Sabbath School as a youth in his native Karia Karia, hence his appreciation, from an early age, the work that the Church has been undertaking in communities across Guyana. He also recalled when the hospital initially opened, and the reports in the newspapers of the day.
The opening the dental centre was particularly welcomed by the President, who said there was not as much attention being placed on such services, compared to other health issues. He explained that in his view, it helped to prevent many of the other sicknesses that people develop later in their lives. The church and government are in "perfect sync" in terms of assisting those in need, he added.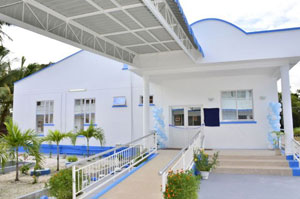 With the biggest portion of the National Budget used to fund the social sector, President Ramotar said, "We believe that by spending on the social sector, we can touch far more people with the resources of the State." The fact that the most important factor for any country's development is the quality of its people was mentioned by the President.
The efforts of the Church, which, according to President Ramotar, has been practising "globalisation" long before the phrase became popular, was noted.
The occasion was also used to launch the Dr. Oliver Pogue Memorial Charity Fund, in honour of the doctor who was instrumental in building the hospital at its current Durban Backlands site. Two family members gave the first contribution of $1 million to the charity.
The event, chaired by Chief Executive Officer Beverly Braithwaite – Chan, began with masterguides completing a route march from Square of the Revolution to the hospital, where President Ramotar and other dignitaries were saluted. Messages and greetings of support were given by Permanent Secretary of the Health Ministry, Leslie Cadogan, Dr. Melchor Fabriga on behalf of president of Adventist Health International Dr. Richard Hart, President of Adventist Care Services Dr. Eli Honore, Chairman of the DMH, Dr. Don Pursley, President of the Caribbean Union Conference of SDA, Chair of Trinidad Community Hospital, Dr. Harold Lee and members of the Pogue family. The oldest persons to be delivered by Dr Pogue were honoured along with long serving staffers and former staffers. (GINA)