LUCILLE Dawsey, Guyana's first female pilot to fly in the country's airspace, arrived at the Cheddi Jagan International Airport (CJIA) on November 12 for a two- day visit, and was high in praise of all entities involved in transforming the country's aviation sector relative to female involvement.
The 72 year-old, Ms. Dawsey explained that the last visit to her homeland was in 1979, when she was honoured by the Guyana Civil Aviation Authority (GCAA) on November 13 at the Silhouette Restaurant.
Speaking briefly at the Silhouette Restaurant, Ms. Dawsey said, "I am very, very impressed to see other women more active in the local aviation sector. I have only been here for a short time, and what I saw at Ogle and Timehri is very unbelievable in terms of human and physical development."
Minister of Public Works, Robeson Benn, in honour of Ms. Dawsey's contributions to aviation, presented her with a plaque, and remarked that it was an exhilarating experience to meet Ms. Dawsey, a mother of five. He added: "We have to remind ourselves to engage and to learn from her experiences as a pilot in Guyana."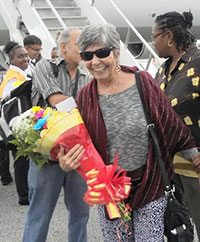 He noted that, during the early 21st Century, it was a pioneering event for a woman to be licensed as a pilot; and he pointed to the evolution of the previously male-dominated field.
"We must know that we not only stand on the shoulders of men, but on the shoulders of strong, brave women. We need to be reminded of how far we have come in our country. Our aviation sector is boundless," Minister Benn stated.
And Chairman of the Board of the Guyana Civil Aviation Authority (GCAA), Mr. Hugh Denbow, declared that GCAA has always paid tribute to the sector's trailblazers.
"We get strength from those who have done a good job. We are still in the primary mode of developing interior locations, and you who have been before us give us strength to go on," he said.
Ms. Dawsey's son, Stanislaus, revealed that despite the challenges she had faced, his mother "kept her strength, (which) I have not seen in anybody else I have come across." He noted also that her vitality for life is another quality he admired, and he thanked Minister Benn and guests for honouring his mother in the way they had done.
Ms. Dawsey expressed her overwhelming sentiments to all: "I did not expect all of this!" she admitted. "I just expected somebody to come and say 'Hi!'."
'Lucy' as she was fondly referred to, flew several Cessna aeroplanes after receiving her pilot's licence in 1961. She flew the Cessna 172, 180 and 206 in the hinterland region, where she and her husband, George Golas, were engaged in precious minerals' operations.
Noting that several personal tragedies caused her to migrate to Trinidad in 1974, Ms. Dawsey said she had returned briefly in 1979.
Ms. Dawsey explained that she presently travels extensively, especially to Costa Rica, the USA and Canada, where her children reside.
Ms. Dawsey, who arrived with her son Stanislaus and grandson on November 12, was pleasantly surprised with the warm welcome she received.
Ms. Paula McAdam, former Director, Aviation Safety Regulations, Guyana Civil Aviation Authority (GCAA), now Chief Accident Investigator; and Monica Bipta, a GCAA staffer, greeted Ms. Dawsey and her family upon her arrival at the Timehri facility.
Ms. McAdam chaired the ceremony honouring Ms. Lucille Dawsey. Ankar Dubay, acting Director General of the GCAA; Astel Paul, a Director on the Board; Courtney Frank and Dorris Sammy were among the GCAA officials present at the ceremony.