Due to the resounding impact of our weekly village focus treks, we were summoned to the village of Content when residents there became green with envy that we had passed their almost remote abode to showcase the makings of the neighbouring Dantzig.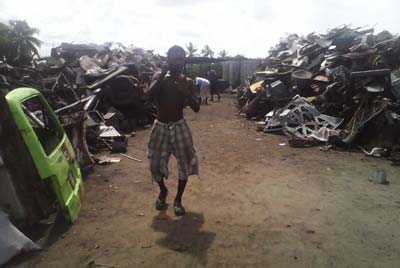 As a matter of fact amputee businessman, Jeffrey Jardine was relentless in his earnest pleading for us to visit the village.
Well here I was in the streets with the hot midday sun scorching my back as I looked around in bewilderment at the quiet village that was almost void of activity.
There were no one really moving around in the streets and even the yards were void of movement. It was only the barking of a few chained dogs protesting the tropical heat that broke the stillness. Nevertheless, I somewhat fell in love with the picturesque ambience of the village and was certainly enticed by the shady trees and simple but colourful cottage houses.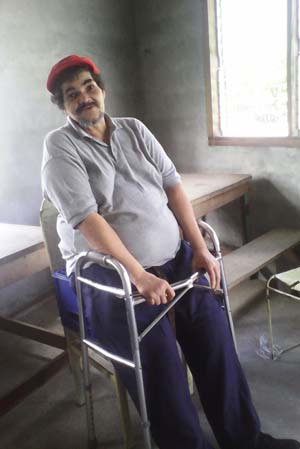 Content is located some 44 kilometres from Georgetown, on the East Coast of Demerara, specifically in the Mahaicony District. This very small village is bordered by the more appealing Dantzig to the east and Mes Delices to the west, some four miles from the outskirts of the Mahaica Market.
Sunrise in this village is normally expected at 05:39 hours and Sunset at 17:36 hours. This village also carries
Latitude reading of 6.5833,° while longitude is recorded at. -58.2333°
Content is a very small village with just thirteen households with a population that has not yet reached 60 according to villagers. This village is predominantly occupied by residents of East Indian origin, with a smaller percentage being mixed races.
Arrival and Interaction
With not much going on in terms of moving about, I was forced to approach the first house I saw. It was a dreamy little white cottage with a breath-taking array of tropical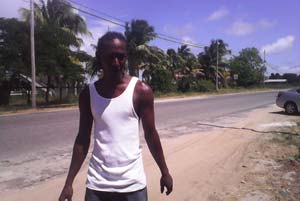 flowers lining the pathway. On both sides of the path ochro and bora plants thrived in tropical bliss as a well fattened calf chomped on juicy grass to one section of the yard.
I was brought up short by the sudden vicious barking of a large bull dog and my heart almost stopped beating. You see folks I have never really outgrown my fear of dogs, so my heart was in my throat. Luckily he was chained to his kennel and the raucous he created drew to the door his master, Jason Singh who was politely and invited me to a bench beneath the home. This young man explained that the village was quiet and simple and that its name reflected the nature of its people.
"This village is a very nice and quiet place. There is not much going on here and we are contented with our everyday farming in the backdam or tending to our small vegetable gardens. The drainage is really good here. This small village is actually made up of plots owned by private individuals. Basically residents here over the years have grown to accept our simple existence and we are quite contented with our way of life…"
In a few rice fields the cattle were munching happily on fresh straw left lying around after rice harvesting while a few heifers dared to go shoulder deep into the swelling trenches to munch on the much greener and juicer grass and plant species.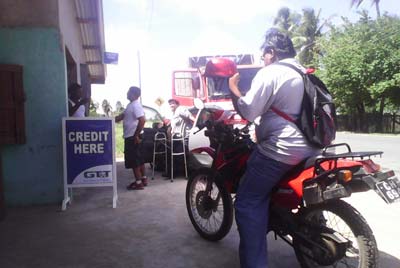 Wide open pastures stretched for miles upon miles towards the far of Atlantic Ocean and I marvelled at its beauty as the heat seemed to cause blurry vapour to rise from the earth in crystal clear, shimmering walls.
Healthy looking coconut palms swayed luxuriously in the brisk cool breeze flowing in from the nearby Atlantic Ocean, and I gulped it in with glee as it seemed to purify the very soul.
The manner in which the few houses were enclosed amidst shady trees and coconut palms, lent a certain rare beauty to this location.
My next stop was to visit businessman, Jeffrey Jardine (an amputee) and he spoke of the livelihood of villagers and a few issues that bothered him.
"In this village the main income comes from rice farming, cattle rearing and from our poultry which is most cases is done on a large scale. The people that live here are a true reflection of the village name in that we are quite happy with our simple means of living. I run this shop here and it brings in an extra dollar. This is the only shop in this village and it is expected that I would do good business but that does not happen. You see sir, the villagers prefer to go to Mahaicony and Mahaica and shop their groceries there when they get their 'big money'. But when their cash is finished, they would come running to me, expecting that I would give dem items on a credit basis. Well not me! I does holla pon dem and tell dem fuh guh right back whea dem does spend dem money"
Mr. Jardine explained that items in his grocery shop are only sold when drivers stop to obtain phone cards that he sells and would buy other items on spot.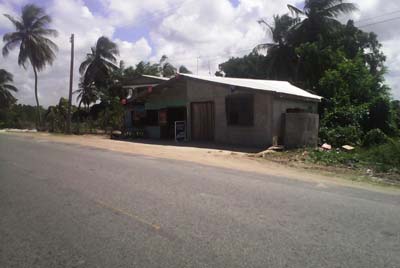 He related that recently he became the target of envious relatives who became horrid when he bought a car to move around on his own "Most of the land in the village is owned by myself and other relatives. Everything was going fine until I bought a car with the money I got from my rice cultivation. Suddenly they began to fight me down for my share of land and they are trying to make life hell for me"
Mr. Jardine recalled that he lost the left leg to amputation when he sustained a blunt injury to a toe. He said that he received medication from a certain doctor that inflamed the injury further, causing him to be admitted in hospital. According to the businessman, he had to undergo five different surgeries, before doctors were forced to amputate the leg.
He manages the 'Aunty Parro Variety Shop' along with his young and energetic son Richard Jardine, who has dropped out of the University of Guyana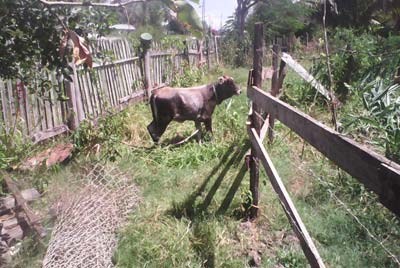 to help with the family business.
There is a thriving scrap iron business going on in this village and persons come from as far as Berbice and Georgetown to sell there to earn a fast dollar. On hand to talk a little about their operations was Sylvan Stoll who is the supervisor at the location.
"Dis business start a lil while back but in no time we manage to get a lot of clients since this kind ah business is a profitable one. People does come from as far as Berbice and Georgetown to sell scrap iron here and they receive a good price. De scrap iron is then later weighed and packed neatly into containers and then shipped to buyers overseas."
Even as he spoke a truck rolled in with a few folks from Airyhall, Mahaicony who had travelled long distances to ply their trade.
My next stop was to chat with a bashful housewife Janita Persaud who spoke a little on the makings of the village
She explained that the village was most often referred to as the 'little little house on the prairie' since no one hardly visited the few residents, and there really not much to do there than to relax and enjoy the freshness of the countryside.
"This village is simple and nice, but there is not much going on here for us at all. As a matter of fact people seem to pass through this village with an attitude as if we do not exist here at all. We don't have no sporting facilities here and not even a ball field to play games. There are no hospitals, no schools, and not factory or anything like that here. To access such necessities of life we have to travel miles away to place like Highdam (some four villages away) or even to the distant Mahaica or Central Mahaicony. Boy sometimes this place does be suh dead that I does wonder if we in de middle of ah dessert by ourselves. However, what is good about this village is our love for everyone and the humble manner in which our villagers accept our simple lifestyle."
She noted that for several months now the village has also been targeted by criminal elements that are making good use of the fact that there is hardly any police presence there. She noted that at least two houses were targeted by bandits several months ago. These victims however preferred not to talk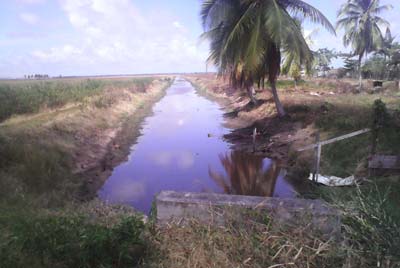 with the media for fear of making their presence and location known to future perpetrators.
I have learnt from the Village Focus explorations that the best of the lot to interact with were the roadside vegetable or food vendors who always have so much to offer. These persons are more prone to indulge, divulge information, and are often the sweetest and more approachable among villagers.
Quite naturally I approached 'Baby' as she prefers to be called, who is a grown woman residing in Content for over twenty-five years. She was all smiling and without hesitation declared that life in the village was refreshing to the soul.
"Sir, life is beautiful in Content and I am certainly enjoying it. We have electricity, a paved street, and our drainage is good, save for just a few drains that needs cleaning since weeds and other bushes have taken them over. We have proper drinking water, and all is well…it's not all that easy to find fancy jobs here, but there are factories nearby so those that are qualified can find various jobs there
I would not say that life is perfect here…. But what I know for sure is that we are quite happy and comfortable as a people and I would like to thank the Government for taking care of us all."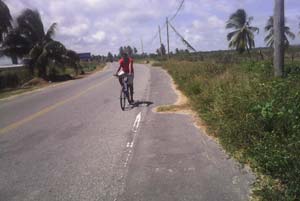 Worship, Education and Employment
While all the villagers are not religious-oriented, there are however a large amount of Christians there and a smaller percentage of the inhabitants are either Hindus or Muslims.
There are no mosques or temples in the village, so it apparent that the few Muslims and Hindus would worship outside of the small village. However, the Christians would normally worship at the lone Lady of Mercy Catholic Church in the nearby Dantig.
This village has no schools of any kind and as such youths there attend the Carlton Hall Primary School, some three villages away, while others will attend other institutions at De Hoop (three villages away), and the Bygeval Multilateral facility which is much closer to the Mahaica Market.
Content in times gone by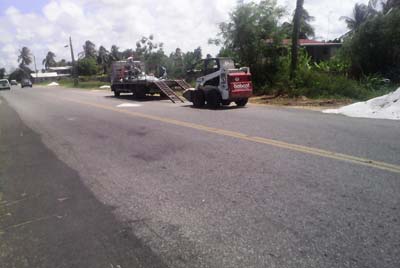 In days gone by Content was not much different from it is today and to shed light on this was the very camera-shy Tularam Singh.
"Well leh me see…. As a lil bai Content was a very bushy place. We had nuff, nuff land space and dem same big, wide open pastcha. But de land bin low bad in plenty areas, and it use to flood bad, especially when the sea wata come in. Dem people who live pon de seas side was de one who suffah real bad. And de area bin swampy tun and nuff time dem cow an harse would stick up in ah mud and if dem ownah can't get dem out. Dem bin ah die right deh".
In those days according to Singh, they acquired water from stand pipes in other villages, while at some instances they were forced to use the water from trenches which was boiled before drinking.
"All over was plenty bush and weed, and tall grass. We could not get into the back dam or some other areas unless we intended to brave the dangers of snakes and other reptiles in the tall bushes. There were no bridges or dams to traverse around the village and this are almost very much the same like it used to be in those days"
A few nice looking houses have popped up in the village and this seem to lend a very 'comforting feel' to this location.
Youths are however requesting that a playfield be made available with recreational equipment to positively pass their leisure time. Mothers are requesting a health centre in the area to avoid having to travel to Georgetown or the distant Mahaicony for deliveries or seeking medication for ailments.
Employment
A few villagers lamented the issue of unemployment that is affecting some youths and to speak on this issue was 22 year-old Richard Jardine.
"This village is a small area but we have a few qualified youths who have excelled at the CXC examinations, but are just stuck here because there is basically nothing to do here but our farming. Students come out of school and are just left to idel because there is no job scope in the village at all. A few have become nurses and teachers outside of the village, but many of them do not have relatives in far places so they can relocate elsewhere for employment"
As a result of this situation many youths will help out in the kitchen gardens that are seen in almost every yard, catch bush fish, or obtain temporary labour when the many farmers harvest their rice and cash crops.
These cash crops will include peppers, eschallot, celery, tomatoes, bora and other items which in most cases are taken to the Mahaicony or Mahaica Markets for sale to consumers. Some farmers would contact their many established private purchasers and they would arrive in their vehicles to collect the produce, 'fresh from the doors of the farmers.'
Entertainment
Seeking word on their entertainment status of the village Jadesh Samaroo explained that entertainment in the village is most times 'home produced' as he chose to put it over. He said that many times groups of friends would come together and host entrainment activities at their homes or sometimes step out of the village to other mega activities.
Of course birthdays, weddings and other entertainment functions add lustre to the welfare and existence of villagers from time to time.
Ethnic Harmony
Any rumours of ethnic differences existing in Content should be treated as nonsense and be crushed under foot. If there is any truth to such tales, that maybe would have been years ago, but with time it has evaporated, and has been replaced with a 'racial harmony' so rich in its intensity that it sent a sweet thrill of intense delight coursing through my very soul.
Even though there are more than one race residing there it was quite pleasing to witness the deep harmony whenever residents came together. They were indeed a picture of what we would want our beautiful Guyana to be.
Changing cultures
The culture of the village seemed to have become more sophisticated with the passing of time. Residents still practice the East Indian customs and beliefs but hardly can one hear the reverberating sound of tassa drums like in years gone by.
Today villagers are more taken with listening to their favourite songs from stereo sounds or other music sets, but one can safely say that the Indian culture is infused with a heady mixture of African roots and the norms of other races since residents there thrive as a body
Religious beliefs are still the same, but the festivity and jubilant demeanour of resident has receded with the passing years. Many have attributed this to the changes of modern times and that persons are more taken up with making ends meet or otherwise earning a living.
But I had thoroughly enjoyed the bus ride to this village, relaxing in splendor and smiling dreamily as the bus rolled noisily along the East Coast Demerara Road, staring in fascination at the attractive foliage scenery flashing by in a lush, green blur.
Conclusion
This village may be tiny compared to others, and may lack certain modern facilities. But what it has in abundance is rich camaraderie, smiling, happy people who goes about their business with a calm and simplicity that certainly amazes.
Join us next Sunday when we head to the exotic and impressive Linden.
(By Alex Wayne)