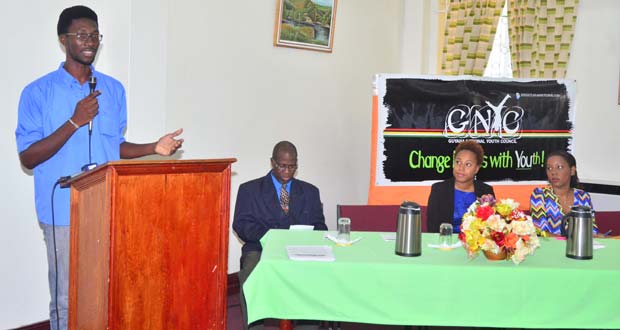 UNDER the banner, 'Change begins with Youth!' the youths of Guyana were represented as a collective, for the first time, as the Guyana National Youth Council (GNYC) was officially launched on Tuesday. 
Held in the conference room of the Guyana National Library, youth mobilisers registered the need to have their voices heard with whole-hearted support from key players: the Commonwealth Youth Programme (CYP); the Caribbean Community (CARICOM), and the Ministry of Culture, Youth and Sport.
"We, as young people, chose to be part of the solution and dedicate our time energies and skills to make Guyana a better place for ourselves, and the future generation."- Jamal Goodluck, GNYC"
The launch, which was strategically observed in keeping with Caribbean Youth Day theme, 'Embracing technology to promote innovative and sustainably conscious Caribbean youth,' did just that as pre-recorded well wishes were displayed featuring Commonwealth Youth Council Chairman, Ahmed Adamu; and Commonwealth Youth Affairs Division Director, Katherine Ellis.
In its Interim stage, the GNYC held a series of consultations, the first at the then Umana Yana, Kingston, where visiting youth activist, Ravi Lutchman of the Trinidad and Tobago Youth Council outlined the benefits and challenges of installing a representative body as integral as a National Youth Council.
Recalling the timeline of GNYC consultations, board member of the GNYC Board of Trustees, Jamal Goodluck, said that attempts to set up a national youth council in Guyana came out of a consensus by those organisations represented at the first consultation that the voice of youth was not adequately considered in national policy.
Goodluck however related the concern of many of the restiveness coming out of the first consultation in light of the previous "failed attempts of a youth council in Guyana."
Nonetheless, he gave the assurance that the initial consensus was further solidified in the second consultation in September last year, when task forces of the council were set up to thrust the work of the representative body under a draft road map thought up by the interim body.
Further in his remarks, the Trustee member stressed that it is not the role of the council to replace any youth bodies but rather, "To involve everyone in exchange of ideas, access information, increasing participation and strengthening cooperation among young people."
Another GNYC Trustee member, Tiffany Daniels, who is no stranger to volunteerism, made brief remarks calling the event "A momentous occasion in the historical landscape of the youth movement of Guyana and the Region."
"Today is the beginning of a great future for the youth of Guyana to come together to raise their voices under the umbrella of a National Youth Council," she expressed, adding that "today is a beginning of a great future of our youth."
Daniels alluded to the fact that while there is recognition of youths being the future, this is not always reflected where it ought to be. "Unfortunately, many institutions fail to hold true to ensuring that the dreams and aspirations of youth move from talk to the commitment of pragmatic whole."
With this in mind, she added that the intention of the GNYC is "simple but transformational" and although this reality presents some challenges, it is far from impossible.
Daniels went as far as to create parallels of National Youth Councils operating in countries all around the world as a "representative network channelling the interests of young people and NGOs."
Director of Youth at the Ministry of Culture, Youth and Sport, Gillian Frank, in her capacity spoke on the theme for this year's Caribbean Youth Day. She emphasised the use of technology as a "vital tool in educating our youth today."
She made this call in recognition of youths not only embracing technology, but underscored the role of technology in current youth development. To this end, Frank saluted the GNYC for coordinating the activity in observance of the 2014 Caribbean Youth Day.
CARICOM was represented by Deputy Programme Manager for Youth Development, Yldiz Pollack-Beighle, who conveyed the warmest wishes of the Secretariat outlining the investments and reaffirmed commitment of the Region towards youth development.
Apart from the official launch of the Council, another initiative launched was the 'My Voice Matters' project, which was conceptualised by the council as a short documentary on the interests of youth and their desire to be vocal in a world that sometimes prevents them from doing so.
The opening remarks by GNYC trustee Jamal Goodluck summed up the goal of the council saying, "We believe that it is the right time for a youth council to build youth networks… [strengthen] youth participation… [and create] a platform for young voices to be heard."
(By Derwayne Wills)