….'Rudy is a beautiful writer' – President Ramotar
FORMER Foreign Affairs Minister, Dr. Samuel Rudolph "Rudy" Insanally has set a record for being among the best 'diplomatic' writers in Guyana by launching his second book titled: 'Dancing between the Raindrops: A Dispatch from a Small State Diplomat.'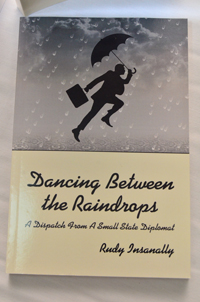 Dr. Insanally stood amidst a small gathering at the Pegasus Savannah Suite on Tuesday evening, reminiscing about his early experiences as a diplomat as well as delivering solid advice to current and prospective diplomats who were at the event alongside President Donald Ramotar and Minister of Foreign Affairs, Carolyn Rodrigues-Birkett, who made similar remarks in showing appreciation for Insanally's work.
President Ramotar, who has completed three chapters of the book, expressed appreciation for Dr. Insanally's writing style since it is quite "readable." He noted that Dr. Insanally had been at the peak of Guyana's diplomatic service since he was recruited after the country gained Independence and has recorded his experiences against that background.
"I wish more of our public figures who have made important contributions to the development of our country in different ways, will record their experiences either in autobiography form or by writing books," said President Ramotar.
The President also reminisced on his early days in Parliament when he used to sit and listen to Dr. Insanally speak, recalling that he was never "heckled" and was a man of consistency. He said further that while it was a "learning experience" for him, it was also "a joy to listen to him speak in the manner that he had," added President Ramotar.
Foreign Affairs Minister, Rodrigues-Birkett said that the book was quite informative and highlighted a number of issues that were "topical" during Dr. Insanally's time and are still topical today. She also remarked on her adoration for the theme of "life and death" that Dr. Insanally captured in his book since it is an inevitable aspect.
"It taught me what I can do to contribute to humanity and in my reign as the Foreign Affairs Minister," The Foreign Minister said. She also extended her heartfelt appreciation to Dr. Insanally for providing free advice to young people, particularly the diplomats.
Meanwhile, Insanally informed that this book seeks to address his initial proficiencies in the diplomatic field as well as his experiences as Guyana's Foreign Affairs Minister after Guyana gained Independence. He further noted that "with scientific technological advances, the face of diplomacy will change to create a new genre" to deal with prominent issues worldwide.
As he stood on the podium, he took the initiative to lecture on certain aspects of diplomacy with the hope of enlightening the diplomats who were present.
The former Foreign Affairs Minister recalled that the Ministry started with "limited resources" and he placed specific emphasis on this aspect in his book. He also served as Guyana's Deputy Permanent Representative to the United Nations in 1972 and thereafter was posted as Ambassador to Venezuela. Furthermore, he served as Ambassador to Belgium, Austria, Sweden and Norway as well as Permanent Representative to the European Economic Community. Dr. Insanally was also Chancellor of the University of Guyana.
(By Shivanie Sugrim)