THE body of 19-year-old Dennis Denzil Williamson eerily surfaced in the Canje River just after 06:30hrs on Tuesday last after his father Patrick purportedly called out to him, reminding him of an appointment he had to attend a welding class.The former student of Vryman's Erven Secondary School had been an experienced joiner, and had been hoping to secure a certificate in welding when he had gone missing on Sunday during a swimming extravaganza with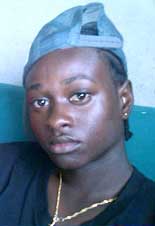 relatives and friends at "Bashmin's" at Mount Sinai in the Canje River, which had been interrupted by the onset of a freak storm that had resulted in heavy rainfall, uprooting trees and collapsing houses.
Patrick Williamson and a search party left his Levi Dam home in Angoy's Avenue in a wooden boat in search of his eldest son. As they approached the Bashmin's area, about two hundred metres from the Canje River Bridge where the teen was last seen, his father Patrick shouted, "Dennis! Dennis! Show yourself! You got to attend the workshop today!"
Within seconds, his father spotted his head just above the water; and the accompanying rescuers moored the boat alongside the body to free it from the clutches of a fallen tree. It is believed that had his body not been trapped by the tree, it might have drifted into the Canje Creek, and subsequently into the Berbice River, before being taken out into the Atlantic Ocean.
Apart from an abrasion to the abdomen, his remains were without marks. A post-mortem examination conducted on Wednesday confirmed that death was due to asphyxia.
Meanwhile, his grandmother Megan Sulker related that her grandson had been employed by ECHO Woods as an Operator. After returning home a few weeks ago, he decided to go swimming with his relatives and friends at Bashmin's.
It was disclosed that on Sunday, at around midday, he, along with some of his siblings, cousins and a number of other youths, went swimming at 'Bashmin' in the Canje River. During the swimming, his two brothers – Darren, aged 10 years, and Donald, aged 13 years — were experiencing some difficulty, and he brought them ashore before returning to the waterways.
The boys reportedly stood shivering during the storm, waiting for Dennis to come out of the water for them to return home.
After several minutes had elapsed, persons began enquiring about Dennis Williamson, and then it was discovered that he had gone missing. A search party was quickly mobilised, but without success.
The body has since been handed over to his father for burial. Dennis Williamson leaves to mourn his parents – Patrick and Carolyn; siblings — Diana, Donald, Darren and Dwayne; other relatives, and a host of friends.