– as 12 new cases of Chikungunya confirmed in Berbice
THE Caribbean Public Health Agency (CARPHA) has confirmed 12 more cases of Chikungunya, from samples which were taken from East Berbice, leading the Ministry of Health to intensify emphasis on vector control activities in the area.Minister of Health, Dr. Bheri Ramsaran told the Government Information Agency (GINA), yesterday, that the discovery was made after 130 blood samples were sent to the CARPHA in Trinidad for testing. The samples were
sent after these individuals showed signs of the illness.
He said the Chief Medical Officer (CMO), Dr. Shamdeo Persaud established a case definition for the illness based on which the hospitals took samples of individuals who fit the case definition, and sent them to the institute to be tested.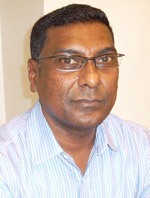 An additional 82 suspected cases have been identified by the New Amsterdam Hospital as they suit the case definition.
The 12 other cases are reported to be from New Amsterdam and Port Mourant, indicating that the disease has now spread even further across the Region.
Prior to this confirmation, two cases were found, one in a toddler, and another in a woman who is said to be in her forties, from Cumberland and Canefield, Canje, Region Six.
This resulted in the Ministry heightening its Vector Control Services (VCS) in the Region placing emphasis on fogging and spraying. These efforts will now be further enhanced, through an expansion in the team and more work done with regards to spraying and fogging.
Director of Vector Control Services, Dr. Reyaud Rahman said the team which is currently in Region Six is fully equipped and has also been involved in mist blowing and abatement in the Region.
More so, the Ministry also has a very strong public awareness campaign, as representatives of the Ministry have been doing a lot of sensitisation on the disease countrywide.
Minister Ramsaran added that the Health Ministry has been working closely with the Neighbourhood Democratic Councils (NDC) and the Regional Executive Officer (REO) in a collaborative effort to help curtail the spread of the disease.
The Ministry has already identified the ports of entry for strict monitoring. Health centres have been alerted and have available medication for the effective treatment of any vector borne disease.
Dr. Ramsaran said no trace of the disease has yet been observed in West Berbice, but Region Five is on alert and has shown great cooperation in the fight.
Fogging exercises are currently ongoing in the capital city.
Chikungunya virus is an arthropod-borne virus that is transmitted to humans by the virus-carrying Aedes Aegypti mosquito. It is transmitted similarly to dengue fever and causes an illness with an acute febrile phase lasting two to five days.
It can result in some long-term effects primarily joint pain, and causes moderate to severe illness. Depending on an individual's body reaction after the incubation period, persons may experience pain even after seeking medical attention. This period can last from two to six days with symptoms lasting four to seven days after infection.
Individuals experiencing any such symptoms are asked to visit a health facility as soon as possible. Individuals are also asked to remove all containers that may retain water and breed mosquitoes.