PRESIDENT of the Guyana Manufacturing and Services Association (GMSA), Mr. Clinton Williams, has described the further blacklisting of Guyana by the Caribbean Financial Action Task Force (CFATF) as a very "vexing issue" and made yet another appeal for politicians to get their act together and address this issue once and for all.
Williams said the GMSA, like the private sector and many other bodies, has also long placed on record its call for the speedy passage and enactment of the Anti-Money Laundering and Countering the Financing of Terrorism (Amendment) Bill.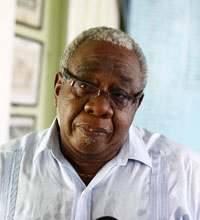 He said that, "We referred to it in the context as 'dithering' on the part of the politicians in getting a very important legislation passed in the Parliament."
With regards to the further blacklisting, the GMSA Head said the fact that there is now going to be more substantial due-diligence on anything emanating from Guyana does not augur well for the manufacturing sector or the country at large.
He noted too, that the advocacy for national interest to remain paramount at all cost should be continuous, particularly since it will take Guyana a significantly long time to erase the damage that has already been caused.
"We should not do anything else, but advocate for good sense to prevail for the legislation to be passed and implemented into law, and for the laws to be upheld. Our members are going to be tremendously affected," Williams said.
He spoke of Guyana's representation at the competitiveness forum, which is scheduled to be held in Trinidad and Tobago and said the recent blacklisting will see Guyana being looked at quite differently.
The competitiveness forum brings together businesses from across the entire hemisphere, which amounts to some 900 million people with 1.5 trillion dollars in international trade.
Asked what this latest development will mean for the Association, Williams said, "The short-term effect obviously is our inability to really garner what is required to really advance the private sector and moreso, the manufacturing sector in terms of investment and international trade."
As a result of non-passage of the AML/CFT Bill, the CFATF at its plenary in May in Miami issued a statement calling on its members to consider implementing further counter measures to protect their financial systems from the ongoing money laundering and terrorist financing risks emanating from Guyana.
This time however, the regional body also referred the country to its parent body, the Financial Action Task Force (FATF) where it will be discussed and assessed in mid-June.
(GINA)