PRESIDENT Donald Ramotar, in congratulating the University of Guyana (UG) on what he described as an important milestone in its history stated that the formal opening of the faculty's Confucius Institute was another example of the close and valued relationship, between Guyana and China.
He said this is a relationship which has seen productive partnerships in politics, engineering, economics and culture.
Explaining that the new facility will serve to inform Guyanese, the president said that the theme of enlightenment holds special significance for Guyana, as it did in the time of the renowned philosopher and teacher whom it is named after. "The historians tell us that Confucius lived in a society characterised by warfare and politics of fierce rivalry, sounds familiar? But on many occasions, his wisdom, diplomacy and moral influence managed to prevail in conflicts and disputes".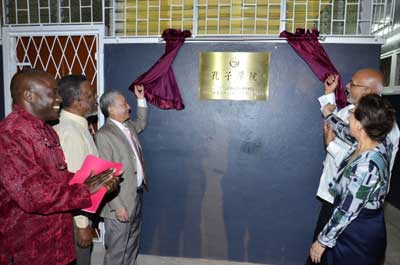 The teaching of Confucius can educate the world about relations between nations and can counsel in human and international relations, President Ramotar added.
He recalled that from the first arrival of Chinese indentured labourers in 1853, when they were recognised as hardworking, adaptable people and civilised, it was the beginning of a rich contribution to Guyanese nationhood. He added that Guyana has had a long history of distinguished Guyanese of Chinese lineage such as its first President Arthur Chung and Parliamentarian and Educator, Rudy Luck.
Contributions to the business sector were noted by the president as was the fact that they provided UG's first two scholarships for students.
With regards to politics, he noted that the PPP has always had a close relationship with the country's Communist Party.
In brief remarks, the Chinese Ambassador Zhang Limin said that the institute will serve to inform and promote his country's culture, and thanked all of those who made it a reality. The ambassador also handed over a quantity of books to the institute.
Brief remarks were also given by Chinese Director Professor Jan Yuhua, UG's Vice Chancellor Professor Jacob Opadeyi, along with cultural performances and a Taichi display by students, Crystal Crawford, Subraj Singh, Keiona Callaik, Nadine Jalill and Mariah Perry.
The programme offered through a new faculty of the university contains four courses, comprising a three-year programme, according to Director, Professor Al Creighton, and takes students from Beginners to Intermediate levels.
The programme is fully accredited and is available as part of the degree programme, he added. There are currently 272 students enrolled and this number exceeded what was initially expected due to the trend of less persons electing to study foreign languages. This has put great pressure on available classroom space and the lecturers. These include Chinese Director Ma Toa, Tie Zhiya and Peng Zhe, who conduct classes in languages and the Taichi Martial Art. In addition to attracting immigration officers and members of the Public Service, Chinese nationals who speak other dialects and wish to learn standard Mandarin are taking up studies.
The Confucius Institute is a joint venture with UG, Dalian University of Foreign Languages and Hanban. The latter, Hanban, the Office of Chinese Language Council International, is affiliated with the Chinese Ministry of Education and serves as the Confucius Institute Headquarters. It sponsors Confucius Institutes and Confucius Classrooms around the world.
It also provides resources to Confucius Institutes and Confucius Classrooms in support of teaching and learning of Chinese language and culture. It is the official Chinese language teaching and cultural centre, as well as Chinese related information center in Guyana.
By January of 2012, there were 322 Confucius Institutes and 500 Confucius Classrooms in 105 countries/regions.
(GINA)