THE People's Progressive Party (PPP), during a Night of Reflection for the late Satyadeow Sawh fondly called 'Sash' Sawh, remembered the late former Agriculture Minister, yesterday, in the conference room of Red House, in Kingston, Georgetown.It was the eighth anniversary of his assassination and the murder of his siblings, Rajpat Rai and Phulmatttie Persaud, as well as security guard Kurtis Robertson, on April 22, 2006, at the Sawhs' La Bonnne Intention (LBI) home.
Giving a brief history of the tragedy, Mr. Shyam Nokta recalled that 'Sash' was born in Central Mahaicony, on East Coast Demerara, in 1955, the last of nine children fathered by a rice farmer and businessman to a home-maker mother.
He attended Indian Education Trust College (later renamed Richard Ishmael Secondary School), where he sat the General Certificate of Education (GCE) 'O' levels and the College of Preceptors (CP) examinations. At 18, he migrated to Ontario, Canada, where he worked and pursued a Bachelor's Degree in Economics from York University. He married in 1982 and had two sons.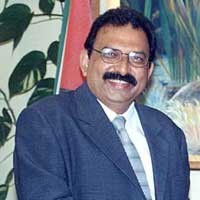 Promoting change
While in Canada, he was vibrant in the Association of Concerned Guyanese, a political group promoting change in Guyana. He held the Presidency of the group for many years and, in 1993, was appointed Guyana's Ambassador to Venezuela.
Sawh served in the position for three years and was awarded that country's second highest honour, the Order of Francisco de Miranda (First Class) upon completion of his tenure.
In 1996, he returned to Guyana and served, under then President, Dr. Cheddi Jagan as a Minister within the Ministry of Agriculture. Sawh became the Minister of Fisheries, Crops and Livestock, with responsibility for Forestry and was, subsequently, named Acting Minister of Agriculture, the position he held up to his death.
Current Minister with the portfolio, Dr. Leslie Ramsammy, in his remarks, said it was because of 'Sash Sawh' that the agriculture industry was transformed from just a rice and sugar sector and he also prepared the country to be engaged in fishing, for exports to be done on a large scale.
Technical skills
"He never displayed tunnel vision and always peered into the international arena and undertook to pump new life in the country's agricultural veins, urging farmers to diversify by pursuing the cultivation of non-traditional crops and acquiring the technical skills to process," Ramsammy said.
He related that the late Minister Sawh had a way with words that touched the very souls of his audience. At community meetings, he would implore farmers to adopt pride in their country and never once downplayed their critical role in the formation of the agricultural foundations upon which Guyana today thrives.
In conclusion, Ramsammy said:"As we examine the life and works of Sash Sawh, we will see how agriculture began to move away outside of sugar and rice as mere substance livelihood to the generation of wealth in our country, how people began to invest in agriculture and, eight years after his death, his works in this sector are still alive."
General Secretary of the PPP and Minister of Home Affairs, Mr. Clement Rohee, who delivered the feature address, said:"Mr. Sawh will forever be remembered for his dedication to the ideals of the PPP, his contribution to the Agriculture Sector and Foreign Affairs.
He played a significant part in the fight against dictatorship and the restoration of democracy, through the Association of Concerned Guyanese based in Canada of which he was President for many years.
Rohee noted:"He is also credited with laying the foundation for the improved relationship we currently share with neighbouring Venezuela where he served as Guyana's Ambassador from 1993 to 1996, following which he was awarded that country's second highest honour, the Order of Francisco de Miranda (First Class)."
He fondly remembered that he first met Sawh when he was a student at Indian Education Trust College after the latter had relocated to Georgetown from Mahaicony. They would actively participate in activities of the Progressive Youth Organistaion (PYO).
Rohee said Sawh also had a significant role in promoting his religion of Hinduism and the Indian culture in the overall Guyanese cultural identity and his legacy lives on, especially through his children and his widow, Sattie Sawh, who continues to contribute to the party and the PPP/C Government.