The Smartphone that tests your heart rate
The Samsung Galaxy S4 is old news. Sure, it's a great smartphone, but now all eyes are firmly locked on the Samsung Galaxy S5. While it was never in doubt that the tech giant would deviate from the highly lucrative Galaxy S prefix, given what happened with the Samsung Gear – anything could have happened.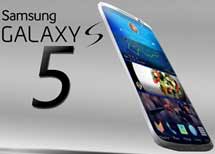 All the big smartphone manufacturers are relatively entrenched in annual product-cycles now, which means we can usually predict when they will launch their headlining products.
Early rumours did peg Samsung as bringing the Galaxy S5 launch forward to February after the S4 failed to sell as many as predicted.
Samsung Galaxy S5 design
There was talk of a whole new design language for the Galaxy S5 with some hoping that Samsung would break away from the similar styling of the Galaxy S3 and S4.
This hasn't happened as such. Design wise, well you can't call the Samsung Galaxy S5 ugly, because Samsung does know how to put a phone together well.
But at the same time it's the same tired story on the design front: taking some elements from the predecessor, adding in some bits from the current Note and calling it all new. No more shiny plastic or laughable attempts to make it look like a leather notebook – while it is still plastic, it's a lot more gripable and feels a lot, lot nicer in the hand.
Samsung didn't need revolutionary features to make its latest flagship a worthy choice for enterprise customers, road warriors-and anyone who wants a device that will last a few years. Here are 10 reasons to consider the S5.
Advanced sensors: Samsung includes a fingerprint sensor, and heart rate monitor in the Galaxy S5. I like that the fingerprint sensor can be used for device security (I find this very handy on the iPhone 5s) as well as for mobile payments – with potential for even more functionality in the future. As a fitness fan, I appreciate how the heart rate monitor can help improve my health.
Dust and water resistance: Made to last longer and stronger- With an IP67 certification, Galaxy S5 is resistant to sweat, rain, liquids, sand and dust, so your phone is protected for any activity and situation.
Samsung Knox 2.0: Samsung's Knox technology offers advanced security features that help make the S5 more attractive to businesses.
Removable battery: I have to admit I was afraid that Samsung was going the route of everyone else with an integrated battery, so I was relieved to see they still offer a removable version. It has a bit more capacity than the S4 and road lovers will love the ability to swap them out when away from a plug.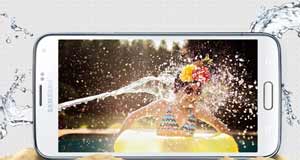 MICROSD card slot: Like the battery, I thought we might see this go away on the S5. The microSD slot is not very useful for apps, but allows you to store media and easily show files directly with a PC connection.
Gear 2 and Fit connectivity: Samsung updated its Samsung Galaxy smartwatch offerings and I think these look great for the business user who needs to triage incoming notifications without having to focus on the phone. The Gear 2 and Fit are functional extensions of the Samsung experience and look to be quality pieces of gear.
Latest mobile processor: Samsung includes the Snapdragon 801 processor in the S5 so you won't have to wait for things to happen on your phone. Demo and hands-on videos show people flying around the device and no one wants to be waiting for things to happen on their phones today.
Advanced camera software: Samsung's 16 megapixel camera has an enhanced user interface and new functions such as advanced HDR, Selective Focus, and more.
For brighter & vivid captures
For both photos and videos, turn on the HDR when there is a strong counter light or when the subject is shaded. Preview in real time natural light and colour being reproduced vividly and clearly while you take your shot.
Large display, yet pocket-able form factor: Samsung increased the display just a bit to 5.1 inches with a slight size and weight increase over the S4. It is still more pocket-able than the Note 3 and I understand the display is gorgeous, as expected from Samsung. A large display is handy for messaging and viewing documents on the go.
Improved UX: Samsung's TouchWIZ is pretty overwhelming and sometimes frustrating, but their new interface looks to be more efficient and useful. Business users will still have plenty of customization available, but shouldn't feel as frustrated by the experience.
Samsung will sell millions of the S5 devices and I think it is pretty clear that it is a worthy smartphone to consider for road warriors, photographers, media junkies, and those who want a phone that lasts at least a couple years. It may not have any significant revolutionary features or blow away everyone, but there are some unique features and existing functionality has been improved.
For about US$ 650, I won't judge the Galaxy S5 until I get a chance to test one out. As the old saying goes: seeing is believing; but for the Galaxy S5, using, feeling and experiencing would be believing!
By Praem Rambharak