THE People's Progressive Party (PPP) held an Evening of Tributes and Reflection, last Tuesday, to honour the life and works of the late political activist, Mrs. Jessica Huntley.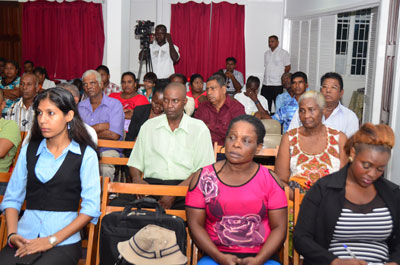 Huntley, who is also founder of the London-based Bogle-L'Ouverture Publications (BLP), died in London on October 13 at 86, and was buried in the UK on Tuesday, October 30.
The forum, which was held at the Cheddi Jagan Research Centre (Red House)on upper High Street, Kingston, saw in attendance Mr. Clement Rohee, newly-elected General Secretary of the PPP; Mrs. Indra Chandrapal, Executive of the Women's Progressive Organization (WPO); Mrs. Philomena Sahoye-Shury, National Coordinator of the Community Development Group; and Mr. Edward Rodney, brother of the late Dr. Walter Rodney, Founder-Leader of the Working People's Alliance (WPA).
Ms Chandrapal gave a brief introduction to Mrs. Jessica Huntley, telling of her sterling and pioneering contributions to the People's Progressive Party; and identifying her as a contemporary of Janet Jagan, Jane Phillips-Gay and Jessie Burnham – all political icons who have each stamped their indelible mark on the life of the party, and had championed the cause of women in Guyana.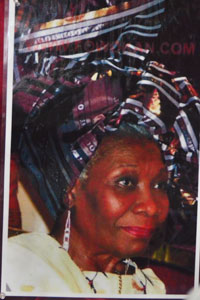 Mrs. Chandrapal said the party group in the United Kingdom had also observed an event for Mrs. Huntley, who was scheduled to be cremated earlier in the day, and therefore the PPP in Guyana had considered it appropriate to host a similar forum here, having regard to the fact that Mrs Huntley was so instrumental in the early work of the People's Progressive Party and the WPO.
"I want to say that Jessica Huntley, as we know her today — together with Janet Jagan, Jane Phillips Gay and Jessie Burnham — was actively involved in the formation of the Women's Political and Economic Organization (WPEO) in 1946, but which nevertheless became inactive by 1948," Mrs Chandrapal said.
Mrs. Philomena Sahoye-Shury gave a vivid picture of the life of the late Mrs Jessica Huntley, who was born of poor parentage on February 23, 1927 at Bagotstown, East Bank Demerara. She had been the youngest of five siblings, and was just three when her father, James Carroll, died, leaving her mother, Hectorine, also called 'Aunt', struggling to eke out a living for herself and children.
And though this prevented Jessica from attending high school, it did precious little to suppress her leadership qualities, love for country, and determination to achieve the goals she had set herself.
In 1948, Jessica met Eric Huntley, a postal worker and trade union activist, and two years later became Mrs. Huntley. Their union produced two sons — Karl (named after Karl Marx), and Chauncey — and a girl, Accabre, named after one of the rebels in the 18th Century Berbice Revolt.
And so, having been born and brought up in Bagotstown, Jessica spent her initial years of marriage living at Buxton, on the East Coast Demerara.
As a demonstrated mobilize, and one grounded in the doctrine of the WPEO, in which she had a lead position, Jessica and her husband Eric played pioneering roles when, in 1950, the PPP was formed. They worked tirelessly for the growth and development of the party, and to see the institution realize its ideals. By April 1953, the PPP assumed office in government in the country's first elections under a process of universal adult suffrage.
With renewed zeal and fervour, Jessica Huntley had, by May 1953, co-founded the Women's Progressive Organization (WPO) to represent women's issues in the PPP's fight for national liberation. But in that same year, the colonial British Government suspended the Constitution and instituted a state of emergency. In the wake of such development, Eric Huntley and other stalwarts of the PPP were arrested and imprisoned for one year.
In 1957, Eric Huntley migrated to the United Kingdom to pursue academic studies, while his wife Jessica remained in Guyana, furthering the cause of the party. She maintained very close ties with Cde. Janet Jagan over those years, and they were actively involved in the struggle for better working conditions; the fight for Independence, and the determined bid to surmount other challenges. Jessica became Organising Secretary of the PPP, and contested as a candidate for election, but was unsuccessful. Following her defeat, she joined her husband in England in April 1958; and in 1962, they were joined by their children. By the late 1960s, Jessica and her husband had founded the London-based Bogle-L'Ouverture Publications (BLP), so named in honour of two heroes of Caribbean resistance, Toussaint L'Ouverture and Paul Bogle.
The publication was said to have begun as "a small, unorthodox, self-financing venture that brought a radical perspective to non-fiction, fiction, poetry and children's books." Moreover, it was said to be deeply rooted in the concerns of the African diaspora.
In October 1968, after Guyanese historian Dr. Walter Rodney was banned from re-entering Jamaica to resume his post at the University of the West Indies, the Huntleys demonstrated their mettle in garnering support for him in the United Kingdom. Consequently, Rodney's 'The Groundings With My Brothers (1969)' was published, and became the first title to be published by the BLP. This was followed by 'How Europe Underdeveloped Africa' in 1972.
In 1972, after much 'ups and downs', the Huntleys managed to set up a bookshop in West Ealing, despite difficulties. After Walter Rodney's assassination in Guyana in June 1980, the couple opted to rename their business 'The Walter Rodney Bookshop'. It was subsequently reputed to have become 'an informal drop-in advice centre, and hosted poetry readings, book launches and schools' workshops'.
As the UK Guardian newspaper puts it: "For more than a half-century, Jessica participated in many grassroots struggles for racial and social justice; the Huntley papers, donated to London Metropolitan Archives, are a testament to the range of their concerns and activities. She was closely associated with community initiatives such as the Black Parents Movement, which campaigned against the controversial "sus" laws that allowed police to stop and search anyone on the suspicion of intent to commit an offence – with black youths believed to be particularly targeted; the Caribbean Parents Group; the New Cross Massacre Action Committee, which organized the largest-ever protest march of black Britons in the wake of the deaths of 13 young black people in a fire in south-east London in 1981; and the Keskidee Centre, Britain's first Afro-Caribbean cultural centre."