DESIGNING a garden landscape is an art; and it's not hard to master it. You don't have to have a big lawn, or the skills of a master gardener, or expensive tools, or abundance of plants. You just have to select the right type of plants for the right location and climate.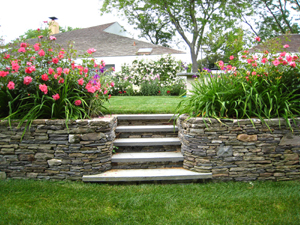 Selecting the right plants for your garden landscape is, admittedly, a bit tricky. You cannot just mix and match your favourite plants and place them together in your lawn or garden. You have to pick and choose plants that complement one another, and mix up well to make a uniform and a low-maintenance garden landscape.
The primary principle of landscape designing is to do your homework before paving the ground for a garden landscape.
Purpose
You have to decide the purpose of your landscape. Landscapes are designed for special purposes. You may want to design a garden landscape for shade, or as a visual divider; for noise control; or for sheer ornamental purposes.
You need to understand climatic conditions. Once you have decided the specific purpose of your landscaping, do some research to understand the type of soil and availability of land and water. When you understand all of these vital factors, decide what type of landscape you want to design: rock garden landscape, native garden landscape, evergreen, tropical garden landscape etc.
Every landscape type has its unique requirements and features. For a low-maintenance garden landscape, go for native garden landscapes. You will still have a long list of plants to select from. At this stage, you should have a clear idea of the type of plants you are going to use in your landscape.
The toughest part is the selection of plants. Do not select plants just because you like them. Make a combination of plants of different types – shrubs, flowering bushes, small trees etc.
Once you have a list of plants, try to visualize how your garden landscape would look when these plants grow old. Plants that are small today might turn into big trees, spreading their roots and branches all over the garden. Similarly, shrubs might need regular pruning. Some plants might be hungrier than their companions. Some of them might remain solitary, or be too small to survive under large specimen.
Eliminate all plants that might grow larger than your landscape.
Colour and texture
At this point, you still have a large number of varieties that you can use in your landscape garden. Now think about aesthetics and dimensions. Think about colour, texture, and shape of shortlisted plants. Shades of same hues complement each other and give a uniform look and feel. Colours with greater contrast make for a showy and vibrant environment. Grey, black and white and neutral colours can be used in the background to neutralize and break distracting colour schemes.
Texture is another important factor. Some plants, for example ferns, are delicate. Some are rough or rugged, and some have both characteristics. Make a combination of these plants, as it eliminates a number of problems, like insects, temperature and soil control, because some plants repel insects, some attract pollinating bugs, some provide shade for plants that do not like direct light, and some make vigorous roots to keep the soil intact.
Purchase plants for your garden landscape. Obtain plants. Go to your local nurseries and purchase plants. Do not go for large specimen, purchase small plants. It is fun watching them grow into large plants. Always purchase plants that are healthy.
Go Digging!
The fun part starts now! It is time to flex your muscles and dig the ground. You know the rest of the stuff. Go digging and share your experiences.
Happy gardening!