THE family of five-year-old Bibi Mohamed, who was diagnosed with a large brain tumor, is appealing for public donations to help save her life.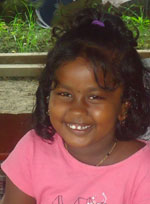 For the purpose of receiving contributions, an account, numbered 790-366-9, was opened at Republic Bank Limited in Georgetown, after an invoice from the St. Clair Medical Centre in Trinidad estimated the child's total medical expense at TT$196,800.
The diagnosis about the child's condition was made when she was three years old, and at the time, St Clair's Consultant Neurosurgeon, Dr  Robert Ramcharan had declared her to be at a critical stage, and in need of urgent surgery.
He explained that the patient would need blood whilst undergoing the operation and relevant arrangements should be put in place.
Medical Registrar of the Neurosurgery Department at the  Georgetown Public Hospital (GPH), Dr. Roy Samlall had recommended that Bibi seeks medical aid in a foreign country because of local difficulty in acquiring visual access and the complete removal of the tumor.
The girl attends the Mon Repos Nursery School on East Coast Demerara and lives with her parents and eleven year-old brother. She has been a member of the Neurosurgical Outpatients Clinic of the GPH since her complaint was first discovered.
She suffered her first seizure at the age of three and was rushed to Woodlands Hospital and, after several tests, she was found to have a large intra-axial tumor in the left parietal area with substantial mass consequence.
For more information about Bibi and her situation, her family can be contacted on  telephone number 220-7394.