IT IS paradoxical that the only mode remaining by which we can hear our ancestors speak is the book, and that form of recording and preserving our literary heritage is rapidly losing ground to recent electronic manifestations.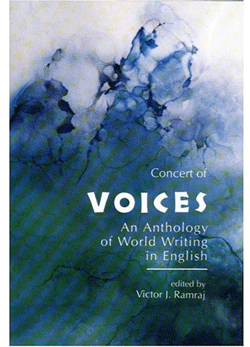 So, it behoves us to repeat and regurgitate that which is stored in those books; it behoves us to get hold of those books, some of which are rare and out of print.
Reprinting some of those books is warranted now more than ever. One such book that is significant (to Indians in particular and to Guyanese in general) is 'They Came in Ships', which ought to be revised and reprinted.
'They Came in Ships' is an anthology of Indo-Guyanese prose and poetry, first published in1998 by Peepal Tree Press, in conjunction with the Indian Commemoration Trust of Guyana.
This anthology of Indo-Guyanese writings was given birth to fill a lacuna; it was felt that the contribution of Indians to the development of Guyana is well-documented, save and except for their contribution to society in the Arts.
This book maps "the development of an Indo-Guyanese expression in literature, beginning with the Indian theme in the writings of Europeans and others through to the remarkable literary flowering of current times."  This mapping was no easy task for the editors/compilers, Lloyd Searwar, Laxhmie Kallicharan, Joel Benjamin, and Ian McDonald.
This invaluable publication is divided into six sections:
In Part I: 'In the Eyes of Others', there are samples from the writings of Europeans like Edward Jenkins and J. G. Pearson, who were studying the subject from as far back as the late 19th Century.
'Until the 1960s there were no fictional or autobiographical representations of Indo-Guyanese lives written by Indo-Guyanese. Until then we have little which gives us any insight into the inner feelings, ways of seeing or even the intimate social texture of Indo-Guyanese lives'
-They Came in Ships, Peepal Tree Press, 1998
Part II: 'The Growth of Self-Awareness' is given over mainly to the early Indian intellectuals discussing the issue of identity and loyalty, including the thoughts of Joseph Ruhomon, J. A. Luckhoo, Robert I. Janki, Peter Ruhomon, and Ayube Edun. Contributions to this section also came from Cheddi Jagan, S. S. Ramphal, Rajkumari Singh, Karna Singh, and Jeremy Poynting.
Part III: 'Prose Fiction' includes the work of pioneer Guyanese writers of Indian ancestry like Sheik Sadeek and Peter Kempadoo, along with contemporary practitioners like Sasenarine Persaud and Cyril Dabydeen.  The work of two female writers, Janice Shinebourne and Narmala Shewcharan, made this section.
Part IV: 'Poetry', features work going all the way back to the first major publication, 'An Anthology of Local Indian Verse', published in 1934. This large section, which includes the poetry of some twenty-five writers, effectively maps the development of poetry by Indians from then to time of publication.
Part VI: 'Bibliography of Indo-Guyanese Imaginative Writing', is a crown to this impressive volume of literature. For the first time, such a comprehensive listing of writings by Guyanese of Indian ancestry was published.
There are a few other anthological publications before and after 'They Came in Ships'. Some such publications include the first anthology by a Guyanese of Indian ancestry, 'An Anthology of Local Indian Verse' , compiled by C. E. J. Ramcharitar-Lalla and published in 1934.
This book contains twenty-one poems written by five writers, all from the County of Berbice; some of the poems were written since 1901. After that publication, there was a long wait for the arrival of other such publications.
In the 1970s appeared two journals, 'Heritage' and 'Dawn'.  'Heritage' was the manifestation of 'The Messenger Group', which was formed by Rajkumari Singh, Rooplall Monar and others to draw attention to the slighted 'coolie art forms'.
'Dawn' was the manifestation of the 'Annandale Writers' Group', comprising of Monar, Randall Butisingh and others.
Then it was a shorter long wait before Kampta Karran produced 'An Introduction to the Poetry of the East Indian Diaspora' in 1991, and in 1997, Roopnandan Singh released 'Sky dance: An anthology of Poems of Guyanese of Indian Ancestry'.
Karran's compilation is a very ambitious project touted to cover "grounds that were previously unexplored." It covers poetry written between 1901 and 1991, whereby "our imaginative writers value us with words, and, in the process, we are transformed from mere objects of literature to the subjects and creators of literature."
This anthology includes the work of "eighty-three different poets and poetesses from diverse backgrounds and with different interests." The works of those eighty-three writers are divided into six sections, via Patriotism, Estate, Protest, Nature, Culture and Children's Perceptions.
Singh's compilation is of a more contemporary nature; it contains thirty-seven poems, the works of twelve poets, including Churaumanie Bissundyal, Paloma Mohamed, Rooplall Monar, Parvati Persaud-Edwards, Petamber Persaud and Roopnandan Singh.
All the anthologies sited, except 'They Came in Ships', favoured poetry. So, it would be useful to include a publication of prose; prose resulting from the oral literature of Indians in Guyana.
'The Balgobin Saga' is a compilation of folk stories used by our ancestors in order to deal with the traumas and challenges of displacement while being transported from India to Guyana as indentured labourers.  These stories were recorded, transcribed and published for the first time by yours truly. 'The Balgobin Saga' was published by Hansib Publications, UK, 2008.
The book's lengthy introduction is informative and elucidating, and the text of stories is divided into sections, viz, 'In and about the school', 'In and around the Church', 'In and around the pay office', 'In and around the home', and 'Under the conversation tree'. The stories are entertaining and instructive.
If we listen, we could still hear our ancestors speak through existing (and forthcoming) books. The book is still alive, and our ancestors live through them.
(To respond to this author, either call him on (592) 226-0065 or send him an email: oraltradition2002@yahoo.com)