NEW American Ambassador to Guyana, Brent Hardt and his wife, Saskia, introduced a whole new aspect of the relationship between the USA and Guyana by recently hosting 'The Art in Embassies' exhibition on June 21 at their residence in Georgetown.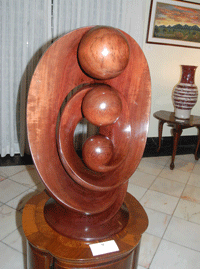 The exhibition, which consisted of seven American landscape painters  and five Guyanese artists (two painters, two sculptors, and one ceramic artist), generally focused on realistic details which reflect geographical, figurative, and hemispheric cultural references.
The Ambassador wrote a concise and knowledgeable introduction to the seven painters works assembled from the State of Maine, which is noted for its coastal and forested natural beauty, and suggested his quest to find commonalities with Guyana via both a similarity of landscape, and even a personal rapport with the works of the five Guyanese artists on display.
The exhibition opened a very interesting possibility for finding common ground between both North America, as a landscape and culture, and Guyana, and also the works of both American and Guyanese contemporary artists. But a broader and more contemplative scope obviously could not be explored by this specific subjective display by this Art in Embassies exhibition.
Evidence of  broader similarities exist in the entire context of particularly modern American and Guyanese art, and is proven within the vast supply of pictorial and critical books (printed monographs and catalogues) once available at the John .F. Kennedy Library in Georgetown (now sadly not in existence), and in the case of Guyanese art, stored in the complete catalogued collection of Guyana's National Gallery of Art, Castellani House, private collections, and in  current work being produced locally.
Broad commonalities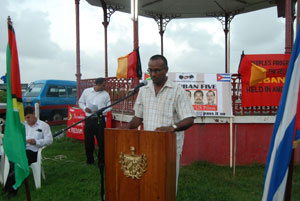 What are these commonalities in the wider creative achievements of both nations?
(1) The relationship of American frontier town wooden architecture, Californian as well, to Guyanese wooden architecture;
(2) the similarity of the American Western wilderness of rocks and elemental physical effects, to Guyanese terrain with the same appearance ; and
(3) the continuity of North American indigenous petroglyphic art,  geometric abstract  assemblage, and color, on their diverse artefacts and accessories, with Guyanese indigenous art.
The influence of this, and more, is reflected in some of America's most brilliant and thought-provoking painters like Clifford Still, Barnett Newman, Willem Dekooning, Mark Rothko,  Adolph Gottlieb, Richard Diebenkorn, Sam Francis, Helen Frankenthaler, Frank Stella, and 20th Century Guyanese artists like Aubrey Williams, Frank Bowling, Cletus Henriques, Michael Leila, Donald Locke, Andrew Light, Arlington Weithers, Carl Anderson, Ohene Koama, and myself.
Such different but highly attractive creative commonalities between American and Guyanese modern painters should not be lost sight of by American or Guyanese viewers, among others.
Freedom of art
Of course, if art is going to be chosen strictly to illustrate a point or provide a definitive meaning, then realistic art would be the best choice, since the need for interpretation by each viewer's knowledge and intelligence would be largely limited.
In today's world, art selections can be limited, even because of simple codes of security and intellectual paranoia, allowing commonalities to be easily agreed upon. But any preference only for an art that illustrates a plain and simple realistic point can be used to uphold both authoritarian and dogmatic stances. This applies both to Socialist Realist art of some Socialist  nations, and most bourgeois realistic art of Democratic nations; whereas stylistically ambiguous or flowing expressions of form reflect both the problems of our PERSONAL lives via subjective comprehension, and also an open door to endless creative and real solutions.
Looking at the art
Both groups of painters (American and Guyanese), except for the exciting and clever Philip Koch, hold to the old European classic tradition of 'belle peinture', where brushstrokes and palette knife strokes are daubed on to verify skill at a specific technique.
Koch evokes a welcome rendition of an America empty of human inhabitation or interference before human arrival; a good idea, and his style harks back to the flat, smooth comic book illustration. The definitive originality of both American and Canadian late 20th Century painters emerged when, instead of this brushstroke and palette knife European technique, the vast monochromatic spatial vistas and terrain, along with the flat weathered surfaces of Native American Indian artefacts such as blankets, buckskin shirts, bags, footwear, earthen  abodes, shields, Tipis, etc, came to influence HOW paint can be applied, and effects evoked from a deeper, more organic and inner natural position.
For the painters in the show, whether their topic is American or Guyanese landscape and figurative realism, their style is European traditional 'la belle peinture'. Their topics may be locally American or Guyanese, but their formal technique is traditional European realism. In the case of Guyanese sculptors, Winslow Craig and Desmond Alli, this realism is less a completely recognizable duplicate of known human or natural forms, and more a selected and isolated portion of such forms; in Craig's 'REACHING', hands of various sizes reach up, denoting inequalities (natural?), or  heads and bodies are rendered via their umbilical or uterine anatomy.
In Craig, craft is subservient to a pursued content, already known, rather than a combination of both imaginative form and well-crafted finish. You look at it once and see it all, because it is an illustration, not a discovery in process for the artist or viewer. An in-depth look at the imaginative yet resolved sculptures by Jean Arp and Barbara Hepworth might be of use to Craig.
Unlike Craig, Alli is more a carver than a sculptor, but he is the only Guyanese carver to have chosen classic pre-Columbian forms of Mexico, Central America and South America to inhabit. He carves sequential realistic details and borrowed motifs from ready-made pre-Columbian formats; but they could also pursue or find forms of their own, rather than remain gobbled up in already made cultural formats the artist holds in awe.
The overall effect of the exhibition was like a pleasant backdrop to social interaction, rather than any really engaging creative display to hold one's attention; this was due to the nature of the art, and not to the adequate space in which it was displayed.
Ambassador Hardt and his wife should be complimented for holding this exhibition, which showed their own pleasant and comprehensive response to art of both their nation and Guyana, as well as opening a door to further cultural exploration between the two countries.