-to feature exciting stage performances
As Guyana gets ready to stage its inaugural, Guyana Food, Arts and Music (FAM) Festival as part of its annual independence celebrations in May , Guyenterprise said it is proud to be the  coordinators for this phenomenal event.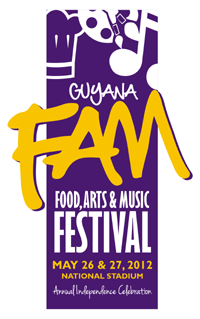 The company will be working in partnership with the Ministries of Culture, Youth and Sport and Tourism, Industry and Commerce which together have realised the need for a national event similar to those held in other Caribbean countries that will promote tourism and attract people from around the world to Guyana.
Guyana FAM Festival is scheduled for May 26 and 27 at the Guyana National Stadium, Providence, East Bank Demerara, and other venues.
This event will see a combination of exciting on-stage performances including, all genres of music, fashion, theatrical performances and dance by local, regional and international artistes.
The festival will showcase the best of local cuisine including Indian, Chinese, African and Amerindian.  There will be several art, craft, jewellery and clothing booths and a kids-friendly zone.
Guyenterprise has secured an international headline act for the first night of the festival …he is Reggae Royalty and multi Grammy award winner, Damian "Jr Gong" Marley; the youngest and most successful son of the legendary Bob Marley. Damian will be performing live with his entire band for the first time in Guyana.

The festival will be the fourth event in a series of successful family-oriented events produced by Guyenterprise in collaboration with our corporate partners.
Guyana FAM Festival will be two exciting days of activities commencing from approximately  14:00hrs each day and ending around midnight both nights; making it an event that entire families can come out to and enjoy and also giving patrons the added excitement of participating in the after-festival celebrations which would be held every night  at locations to be announced.
Although there is so much more on offer at this festival, ticket prices remain at the same affordable rate of previous events. Single-day entry for adults will be $3000; Single-day entry for children will be $1,500; Two-day passes for adults will be $5000 and two-day passes for children will be $2500. These ticket costs may increase closer to the event date and at the venue.VIP tickets will be $20,000 which includes a very generous package and a two-day VIP pass will be $35,000.
Guyenterprise said that the aim is to create an event that provides a platform to showcase Guyana to a broad cross-section of visitors and encourage Guyanese overseas to return home and join in our independence celebrations every year.  It is our hope to have as much local talent on display to gain international media exposure, thus promoting Guyana to the rest of the world. Our planning committee has researched successful festivals around the Caribbean and plan to implement what we have learnt into creating a Guyana FAM festival that is comparable to existing festivals and to have this event grow bigger each year.  Apart from boosting tourism to our country, a festival of this nature will result in several benefits to our economy.
Guyenterprise is confident that the success of this event and the high levels of exposure it will create will make Guyana FAM Festival the perfect opportunity for participants and corporate sponsors to maximise their brand awareness and benefit from the returns that an estimated audience of 15,000 to 25,000 will provide.
There is an extensive PR and Marketing plan that includes promotion across Guyana, The USA, The UK, the Caribbean, Suriname, Brazil and Canada in the form of radio, television, print media and several forms of internet-based promotions guaranteed to reach an audience of a few hundred thousand persons.
Features of Guyana FAM Festival:
*An expected audience of 15,000 – 25,000
*Over 20 live acts performing over two days including, major international artistes
*Over 50 local and international media representatives
*Extensive promotion across Guyana, The USA,The UK, the Caribbean, Suriname, Brazil and Canada
*Excellent brand awareness and high-level marketing opportunities
*Cultural mini-villages depicting clothing, food, music and craft of our African, Amerindian, *Indian and Chinese heritage.
Food booths with authentic Guyanese cuisine with interactive cooking demonstrations
*Food booths from neighbouring countries (Brazil, Suriname, Venezuela, Trinidad, Barbados & Jamaica).
*Art, Craft and Fashion Displays will feature stage shows and cultural events throughout the two days ending with a music concert each night.
*Day events to include: Fashion Displays; Music Performances; Cultural Performances; Theatrical Performances; Art Displays.
*Preliminary events across Guyana and other Features: Talent Stage: featuring undiscovered and up and coming talent.
*Tourism booth: featuring tourist destinations in Guyana.
*Artiste Merchandise booth: featuring artiste CDs and other Guyanese and Guyana Fam Festival *Memorabilia and Kids Zone: featuring tons of kid friendly activities and learning experiences throughout the festival.
*Themes for Festival Days: Saturday: Jazz during the day; Reggae at night, cultural presentations: African & Amerindian and Sunday: Calypso during the day; Soca / Chutney at night Cultural presentations: Indian & Chinese with two days of exhilarating performances:
Saturday Reggae Night: Damian "Jr. Gong" Marley / First Born / Alabama / Mystic / Jory
Sunday Soca Chutney Night: Rikki Jai /D Hitman / Sally Sagram / Adrian Dutchin / Jomo / Shelly G / Fiona / Priya / King Shepherd