AS the search for missing Devon Gibson, eight years old, of Lot 9-10 Queen Street, South Cummingsburg (Tiger Bay), Georgetown, continues, hopes of finding him alive have  diminished as family members and relatives continued to wait yesterday on word of the recovery of his body from the Demerara River.
Up to press time, the child's grandmother, Isolita Agard, 58, who operates a road corner stall, told the Guyana Chronicle that a party comprising  relatives re-visited the Kingston seawall, just behind the Guyana Forestry Commission (GFC), the location where Gibson reportedly went under the water without resurfacing, but came up empty-handed after a search yesterday morning.
The Form 1 St. Margaret's Primary School pupil on Sunday afternoon ventured to the Kingston jetty with a group of six boys and a man from the area and went swimming.
However, when he jumped into the murky waters he failed to surface and has since gone missing  despite searches.
The man, who accompanied the boys swimming however, raised an alarm after he saw what was happening and two of the boys were rescued but Gibson was not so fortunate.
The man was up to yesterday assisting the police at Brickdam Police Station with investigations and the boys have also given statements as to what had transpired on Sunday.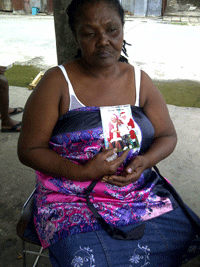 Isolita Agard yesterday said that the lad's mother, who is overseas have since been informed of the incident and is expected in Guyana shortly.
She noted that Gibson never went swimming in that area and knows he cannot swim and was last seen at about 15:30 hours on Sunday playing with children in the community as usual, but realised he was missing after her calls to him went unanswered; then she received the news that a child was missing after a swimming expedition.
The elderly woman stated that six boys from the community accompanied by a man left for the Kingston jetty unknown to her and one of them later told her that he was chased home by a passerby that knows him, but the others remained there on Sunday.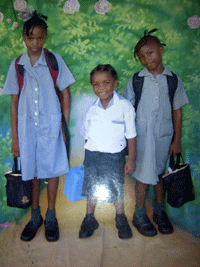 Agard, who was manning her small roadside stall with tears in her eyes yesterday, was hopeful that her grandson would be found alive and returned to her as she held a photograph of the boy.
She was the guardian of Gibson, his sisters' ages are 11 and 14 years old.
Last December 29, 13-year-old Anand Ramdeo drowned while on a family outing at St. Cuthbert's Mission Creek. The Queen's College student disappeared after he encountered turbulent waters which swept him away. By the time he was recovered he was dead.