THAG agrees country on right economic development path
VICE-President of the Tourism and Hospitality Association of Guyana (THAG), Mr. Daniel Gajie has agreed that the country is on the right path of economic development and sustainable tourism is an integral part.
He said so last Sunday evening, in the Guyana International Conference Centre, Liliendaal,Greater Georgetown, at the opening ceremony of the 13th Annual Caribbean Conference on Sustainable Tourism Development (STC-13), which runs through April 18, under the theme 'Keeping the Right Balance: Sustaining Our Resources'.
"On behalf of the President and members of THAG and the Association of Regional Chambers of Commerce and, by extension the private sector of Guyana, I extend to you a warm and friendly Guyanese welcome to the 13th Conference on Sustainable Tourism Development," Gajie offered.
He also tendered gratitude to the Caribbean Tourism Organisation (CTO) for, once again, choosing Guyana to be the host country for the important activity.
Gajie said Guyana is fast becoming a preferred tourist destination for tour operators and visitors who wish to promote and visit unexplored territories, whether hiking along the trails of its pristine rainforests or exploring the many rivers and creeks or even attempting a climb of the majestic mountain ranges down south.
The former President of the Rupununi Chamber of Commerce and current Vice-Chairman of the Association of Regional Chambers of Commerce (ARCC) underscored that the conference is being held at an important juncture in Guyana's history "when we are venturing into new areas of tourism" such as eco-tourism, agro tourism and sports tourism.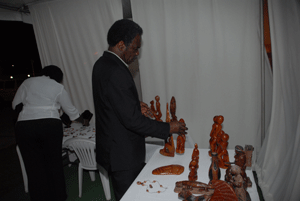 He told the assemblage: "As you may be aware, a few years ago, Guyana, under the leadership of former President Bharrat Jagdeo, developed a Low Carbon Development Strategy (LCDS) which placed Guyana in the forefront of countries that wish to address the serious threat of climate change, on which, if decisive actions are not taken soon, place the very livelihoods of our peoples, economies and, to a larger extent our planet, at risk of consequences too extreme to mention."
SERIOUS EFFECTS
Gajie said the LCDS has become one of Guyana's main development policies that has seen and gained the respect of many international organisations, countries and their leaders, some of whom have pledged financial and other support, in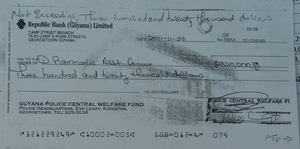 efforts to highlight the serious effects of climate change on economies and their peoples.
He continued: "Clearly, from the various strategies and policies developed and implemented by the Government of Guyana, our country is on the right path of economic development, of which sustainable tourism is an integral part."
Gajie said government is also partnering with the private sector to promote community-based tourism, especially in the far-reaching Amerindian areas of Guyana's hinterland and there are also indications that many villages along the coast, with their rich history, can develop various tourism products to encourage community-based tourism countrywide.
"Many of our hinterland communities have enhanced their facilities and strengthened their human and infrastructure capacity while there is also a sense of urgency to identify new locations that will satisfy the ever growing number of visitors that are in love with the flora and fauna of our rainforest," he pointed out.
These developments will provide an opportunity for Amerindian communities to enhance their social and economic well-being as well as provide an educational opportunity to their people as to how to balance economic development against environmental protection and conservation, he suggested.
The THAG Vice-President said, already, there are practical examples in many of the Amerindian villages, like Surama, Rewa, Nappi and Annai in the North Rupununi area.
He disclosed that, recently, an exciting new product of sport fishing was introduced in the tourism sector, which saw a team of professional anglers visiting the village of Rewa for the first time and engaging in it and the feedback from participants was extremely positive and augurs well for Guyana to become a premier sport fishing destination.
Gajie reported that, two weeks ago, government presented its national budget, which included an increase in budgetary support to the sector.
WORKING RELATIONS
He posited: "The sector continues to receive the necessary attention and support from the Government of Guyana and, together, we have forged a strong partnership and extended our working relations to promote and encourage continued growth and development of our tourism industry."
Gajie said they have also recognised the need to adopt, practise and present to visitors acceptable standards and, as such, are in the process of implementing regulations that would be second to none, as they strive to achieve success of their investments.
"I urge all our visitors and participants at this 13th Conference on Sustainable Tourism Development to explore our country as our guests for the next few days and we are optimistic that you will encounter memorable beauty and hospitality and are confident that you will soon return so that we can continue to share our beautiful country, our culture, cuisine and people with you," he invited.