SATURDAY's state visit by Senor Nicolas Maduro, of the Bolivarian Republic of Venezuela, coming after almost five months since the passing of his predecessor, the indomitable Senor Hugo Chavez, is another indication of the continuously growing, warm and mutual friendship that has underpinned relations between the two neighbouring states. This change has especially been ushered in, with the ascension of Chavez to the Presidency.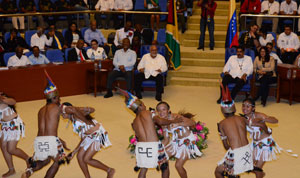 The stage for this détente began when Chavez made his first visit to Guyana in the early 2000s. Of course, not only did he blame the United States for being responsible for the tensions between his country and Guyana, but signalled that new strategies will have to be employed for the settling of border disputes. He further reiterated that his visit was about strengthening ties with Guyana, and assured that his country was not about the hindering of development within the disputed area that would benefit Guyanese.
Absolutely, this was a ground breaking declaration since it was to have removed the two South American States from a state of frosty relations to what can be described as the warmest clime of good neighbourly relations ever. The rest is now history.
In this new clime of improved diplomatic relations, Guyana has benefitted very much from the Petro Caribe deal. This is an arrangement that includes Guyana and several Caribbean and Latin American countries, whereby oil and diesel are purchased at reduced prices. It allows for deferred payments, and for borrowers to pay on a barter system with goods such as sugar, rice and bananas.
But it is the rice deal between the two states that has epitomized the value and importance of this era of diplomatic tranquility. In accordance with negotiated arrangements, local rice farmers have been selling rice at lucrative prices to this South American country. From a package that started at $18.8M in 2009 for a shipment of 10,000 tonnes of rice, has grown exponentially to $140M for 200,000 tonnes, currently.
These two trade initiatives, of vital socio-economic necessity for Guyana, are the major planks in an array of benefits bequeathed to Guyana, as a result of closer and friendlier ties.
There is no doubt that President Maduro's visit has further strengthened and advanced the platform of excellent ties that has grown since the beginning of the millennium, and made possible by the late visionary, Hugo Chavez.