-listens to their concerns, promises interventions
RESIDENTS of Mahdia, Region 8, were given the opportunity to interact with the Minister of Local Government and Regional Development, Ganga Persaud as they went about their daily 'hustle and bustle' last Saturday morning.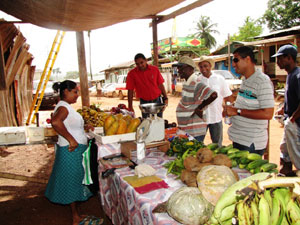 The minister, during an outreach to the community, undertook a walk-about, accompanied by the ministry's Permanent Secretary, Collin Croal and the Regional Executive Officer (REO), Ronald Harsawack.
The walk centred on the main streets of the community, where the minister was warmly greeted by several roadside vendors and business owners, including local businessman Roger Hinds and dozens of other persons going about their morning activities.
With much camaraderie, the residents engaged the minister in talks about their daily tasks as well as concerns about specific services in the community. The minister, listening to their concerns, assured that measures would be put in place, where possible, to address the issues raised.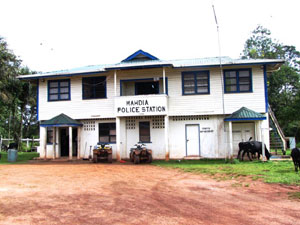 In one instance, a resident proposed a radio station for the community, an initiative the minister commended.
Other residents expressed appreciation for government enabling and supporting much needed development services in the communities that have seen them enjoying a better life.
Minister Persaud also visited the Mahdia Police Station and was apprised of the officers' activities towards curbing social ills in the community.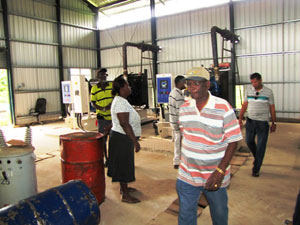 The minister was especially interested in learning about the region's actions tackling squatting and crimes. He underscored the need for the force to be aggressive, as government is especially concerned about these two issues.
He also visited the Mahdia Arcade that had been destroyed by fire on July 1, 2010, but which has since, through the interventions of the Ministry of Housing, been reconstructed to cater for 28 stalls.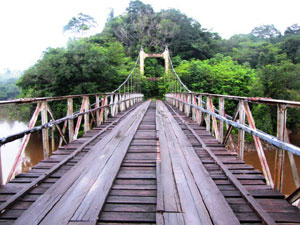 On seeing the area designated to become a commercial zone, Minister Persaud expressed dismay that this is now transformed into a mini- squatter settlement, a situation he promised to bring to the attention of the Housing Minister.
The team also visited the Mahdia power and light plant that is providing residents with a 24-hour supply of electricity, for the first time since 2011. The utility is being subsided by government with residents receiving the first 15 kilowatts of power free every month, and paying a minimum of $100 per watt thereafter.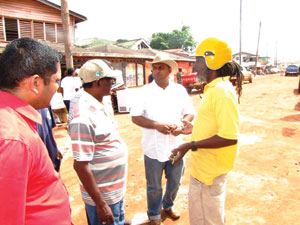 The minister encouraged the staff at the plant to be careful in its management and urged the line crew to ensure proper maintenance to minimise loss and to ensure the beneficiaries are metered.
Later in the afternoon, Minister Persaud was joined by Minister of Amerindian Affairs, Pauline Sukhai, and they visited the Denham Bridge that was constructed in 1933 over the Garraway Stream, linking Mahdia to Bartica by trail. (GINA)