Culture Minister issues call to save masquerade bands from extinction
— says art form integral part of folk history
LOCAL Designer Olympia Small-Sonaram was accorded the coveted Mash Designer of the Year award among other prizes she received at the Mashramani Awards Ceremony 2012, which was hosted last Friday at the Umana Yana, Seawall Road, Kingston, Georgetown. That ceremony officially closed a month of activities celebrating Guyana's republican status.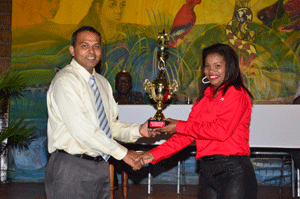 At that event, Culture, Youth and Sport Minister Dr. Frank Anthony declared  that there was an ever increasing level of participation in Mashramani each year, and he attributed this to the hard work of many individuals as he went on to express gratitude to the Mash Secretariat and the regional Mash committees.
Stressing that Mash was a collaborative effort, he also lauded the work of the Joint Services for helping to keep Mash safe.
Noting the significant strides being made in the area of steel pan, he praised Republic Bank Limited for its work in advancing steel pan expertise, and explained that the bank has been part of the venture for four years, and will be a part of other programmes which will involve teaching children how to play the steel pan. Dr. Anthony, moreover, said the Culture Ministry was trying to get a qualified person to do a workshop on tuning the steel pan.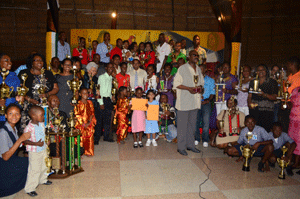 The minister pointed out that other aspects of Mashramani were introduced this year. Included among the new aspects was a republic lecture series in which Professor John Rickford of Stanford University presented on the Creolese language and its role in our identity as a people. Anthony posited that the lecture series would stimulate debates about different aspects of our culture, and how we can forge a stronger identity as a people.
The minister said that an exhibition at the National Museum was also added this year. He noted that this was well received, as a number of schools visited to learn about Guyana's culture, and he encouraged persons to visit Castellani House in this regard.
Highlighting that the Children's Road March, spearheaded by the Allied Arts Department of the Ministry of Education, has been doing well, Dr. Anthony noted that the Culture Ministry has added a new dimension in the form of a song festival. A child Art competition was also added this year.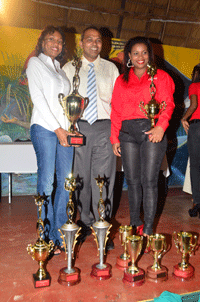 Dr. Anthony appealed to the regional committees and to the private sector to support masquerade bands. He explained that the dwindling participation of masquerade bands in Mashramani celebrations was a growing concern. He noted that although the Culture Ministry had created a special space for this aspect of Mashramani celebrations, only three bands participated. He stressed that if the folk tradition is not kept alive, Guyanese would lose a very integral part of their folk history.
Minister Dr. Anthony expressed hope that the Mashramani float parade would grow from the 32 bands on the road this year to about 43 in 2013, in keeping with the anniversary celebrated. Appealing to the private sector, Dr. Anthony opined that there was no better way for companies to advertise their products and services, quite apart from demonstrating corporate responsibility and giving back to society. He congratulated Banks DIH Limited, Guyana Telephone and Telegraph Company Limited (GT&T), ANSA McAL, and Digicel for their contributions towards Mashramani.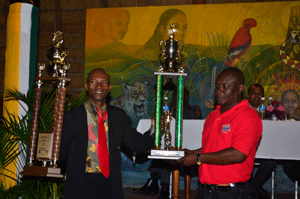 Dr. Anthony encouraged persons with particular skills to lend to the activity, and to come onboard in that regard. Another new feature in this year's Mashramani celebrations, he pointed out, was a child art feature, coordinated by UG Lecturer Dr. Philbert Gadajhar, which was deemed a success.
As it relates to legacy products, the minister noted that the Culture Ministry was collaborating with the National Communications Network (NCN) to produce a DVD on the activities of Mash, and a Mashramani Magazine would also be produced by the Corbin Media Group, publishers of GEM magazines.
At the prize-giving ceremony, prizes were distributed to the following categories of competitors: Children's Competitions, Chutney Competition, Masquerade Competition, Bright up Guyana Competition, Steel Band Competition, Child Art Competition, Calypso Competition, Carib Soca Monarch, Costume and Float Parade competition, and Special Awards.
Among the numerous awardees in the various categories on Friday were: FULL COSTUME LARGE category — Digicel scored first place, with Banks DIH Limited coming in second and the Youth Coalition for Transformation (YCT) and the Ministry of Culture tying for third place.
The FULL COSTUME MEDIUM category — Ministry of Agriculture placed first, Ministry of Tourism second, and Ministry of Local Government third.
The Ministry of Education came in first in the FULL COSTUME SMALL category, Public Service Ministry placed second, and Rusal placed third.
In the INDIVIDUAL PIECES category, Digicel placed first in the KING category, followed by Ministry of Education, and ANSA McAL in that order.
ANSA McAL took the first place in the QUEEN category, while the YCT came in Second, followed by BANKS DIH in third.
Digicel captured the first place position in both the Male and Female Individual categories, with Banks DIH second in both categories, and the YCT in third place male category, and the Ministry of Human Services and Social Security third in the female category.
In the SEMI COSTUME category, the prizes in the LARGE category were as follows: YCT in first place, BANKS DIH in second, and Slingshot in third.
In the MEDIUM category, the Chinese Association came in first place, followed by the Ministry of Agriculture in second place and the Ministry of Health in third.
In the Commercial FLOAT category, Banks DIH was the big winner, with Don Gomes Optical coming in second.
The Ministry of Culture came in first in the Non-commercial FLOAT category, with YCT coming in second, and the Ministry of Agriculture coming in third.
In the REGIONAL category, Region 3 came in first in the Full Costume Medium category, followed by Region 4 and Region 5 in that order. In the Small category, Region 6 scored first place, with the Local Government Ministry in second place.
In the INDIVIDUAL COSTUMES category, Region 4 earned first place in both the King and Queen categories, with Region 3 in second place in both categories. The third place spots for King and Queen were earned by Region 5 and Region 6 respectively.
Local soca star and X2 member, Adrian Dutchin, is ROAD MARCH KING 2012. He won the coveted position with the song "I am a Guyanese". Melissa 'Vanilla' Roberts came in second with "Rage", while Tropical and Mystic came in third with "Regardless".
Though not present at yesterday's awards ceremony, the other X2 member, Jomo Primo, was previously awarded by ANSA McAL for his Carib Soca Monarch win.
Calypso Monarch Roger "Young Bill Rogers" Hinds and Junior Calypso Monarch Tennicia DeFreitas also collected awards.