How weddings have been affected during the pandemic
CORIN Gibson, 57, always felt that she needed to be absolutely sure she'd found the right man before she decided to get married. Offers would come her way, but she would always refuse. The one whom she thought was right for her, though, popped up in 2014. The wedding plans for August 23, 2020 were coming along fine until one thing got in their way – the Coronavirus (COVID-19).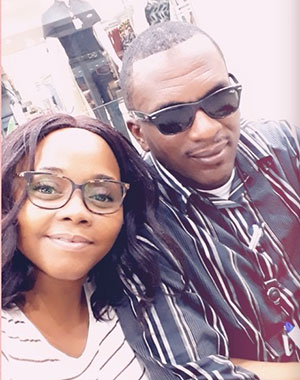 Corin finally decided to get married after she found, Ray Burke, 56, who she wants to spend the rest of her life with. As life would have it, though, it's not even possible for them to see each other in person at the moment. He lives in New York, USA.
Corin and Ray maintained a long-distance relationship and both would travel between Guyana and New York to spend time with each other. Ray was going to use his vacation leave from work in August to come and wed Corin, but the outbreak of the Coronavirus has put a stop to all of their plans.
Although all arrangements have been in place and money has been spent on a number of things, Corin said she is not too disappointed. "I told him once we have life and strength, it will happen," Corin told the Pepperpot Magazine a few days ago.
The invitations have already been sent out, and Ray's family had big plans to come to Guyana for the wedding. "Nobody can predict when something like this would end," Corin realistically observed. "But God is in charge. We wanted to do this big, elaborate wedding, but maybe God is trying to tell us something."
Ray and Colin had already booked the Regency Suites Hotel for their wedding and had already paid for the food. But they have been assured that they will be refunded in time.
A manager at the hotel, who preferred anonymity, told this publication that the hotel had to close its doors about six weeks ago due to the outbreak of the dreaded disease. According to him, about three weddings that were scheduled to be held at the Regency during this period had to be postponed.
The hotel manager said they are monitoring the situation and the curfew, which has been extended until June, before deciding when to reopen their business. A decision was taken to close as people were not found to be travelling as normal, and also, due to heavy risks of people going in and out of the hotel daily. "If one staff member gets it, all the others are at risk."
Stalled plans
Odellis Dos Santos and Clarence Williams were also busy planning their wedding when they heard of the first case here in Guyana and knew that their plans were going to be interrupted.
The couple, together for the past four years, planned to get married April 12, 2020 (Easter Sunday). "We decided to get married because it's the right thing to do. Religion wise, we would like to move forward so that we can be more involved in church," Odellis expressed during an interview with the Pepperpot Magazine.
"The preparations we made so far – the invitations went out, the hall was already booked, caterers, everything! I already purchased my dress, he did his suit, all the bridesmaids, and the groomsmen had their things together. The photographer was booked, and the wedding was just waiting on probably the date. Everything was set and partly paid for," she explained.
She and her fiancé have decided to postpone their wedding until after COVID-19. "I still want to get married in a church with all my family and friends, so we've set December as a tentative date, or maybe until next year."
Odellis couldn't help but feel disappointed and stressed. But now, she said things are better after she realised that there was really nothing they can do about the situation.
Meanwhile, the wedding industry has been tremendously affected by COVID-19. Just recently, founder of Team MMR, WR Reaz said some 19 weddings had to be cancelled, some of which were confirmed since last year.
WR Reaz is the founder of Team MMR, a local entertainment agency which is often hired for weddings. "Every single one has been cancelled, and for every person who gave us an advance, we called them back to collect their money."