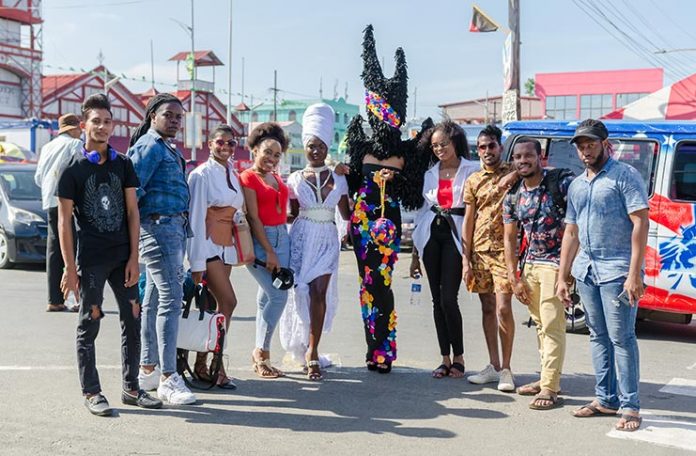 A group of designers, models and photographers have come together and pooled their skills to produce "Project Corona", an initiative aimed at helping to bring awareness about the novel coronavirus (COVID-19), and the fight to help stop the spread of the global pandemic.
The two-day project interlaced fashion, photography, and other aspects of creative arts to spread the message of the need for persons to be more cautious and take more seriously the measures advised to fight against the spread of the virus, which has been spreading across the globe since December 2019.
Designer Mwanza Glenn of 'Wanza's Designs' explains that the designers decided that they needed to do their part to help spread awareness, as well as a message of hope in these trying times.
"We thought that designers, makeup artists and creatives come together to send a positive message about the pandemic, what is happening, how it's affecting the world, how can we prevent it with fashion and photography. This is our contribution to bringing awareness and how we can combat the virus," Glenn shared when we caught up with him during a street photo shoot last Thursday.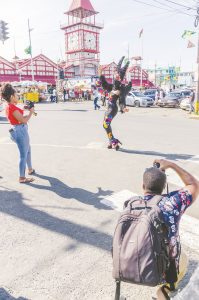 Glenn related that even though it has a fashion aspect, the project is about way more than just fashion.
"It's not all about just fashion and clothing it's a series of photos that all follow a storyline, with the shots illustrating different aspects of the story," Glenn said
He further explained that: "It encompasses a lot of things, us working in the industry, and moves from there to ways in which we can get the virus, and then looks at medium in which we can protect ourselves from the virus and then it ends with a message of hope, that if we do listen and if we do follow all the precautions we can actually win this thing."
One of the storylines depicts a couple picnicking in the gardens, however, in their basket instead of food, it's loaded with sanitising products such as Lysol products, Dettol soap and hand sanitiser. Sanitisation is one of the chief measures advised to help fight the spread of the virus.
"In some ways, it's kind of humorous and we're trying to present it using several disciplines of the arts," Glenn said.
Glenn shared that he came up with the project during discussions with fellow designer Mark Junor of Kramronuj designs, about doing a collaborative project to do their part to spread positive messages during this time. Junor also provided makeup services through his Beat by Mark brand.
Also taking part was designer Godlyn Lyte of Ghodess Wear.
"I was contacted by Mwanza and Mark to be a part of the project and it seemed like a really cool project to be on and the message behind it is definitely something that I wanted to be a part of. Despite it's a trying time for the nation there is still hope to come," Lyte expressed.
The small group were out last Thursday doing photography at the Botanical Gardens and at the Stabroek Market area where they caught the attention of a few passersby who stopped for a chat and to learn more about the project.
The shoot depicted two fashion pieces.
"An artistic representation of coronavirus and a visual representation of educating the public on what corona is all about," shared Anthony Dinally, a Trinidad-based Guyanese designer.
Dinally's stay in Guyana was extended after the country's airports closed to international flights earlier last week. He shared that he also jumped at the opportunity to be a part of the project because he wanted to support what it was all about.