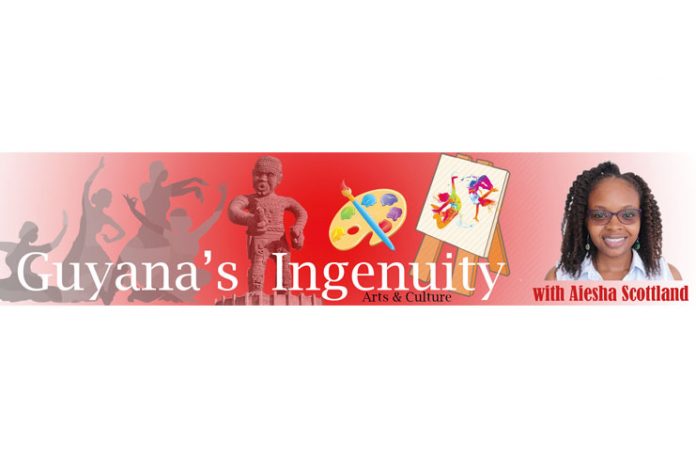 A FEW weeks ago, I interviewed an artist who said she had created her best works during a period of unrest. This period was by no means pleasant, however, she was confined to her home and that gave her much time for experimentation. In the light of the current political and social climate of this nation, the artist must seize every opportunity to work. We have a responsibility to document history but more so, to be a voice for the people. As we are being cautioned to practise social distancing to prevent the spread of the COVID-19 virus, we can use the time apart to get our creative juices flowing and to create. There are quite a few global issues that can be portrayed, and our works will bring awareness to matters affecting society. With regard to the virus, we can also use our creativity to showcase possible preventative measures.
Some of the best pieces of art were created in seasons of much distress; this time is no different. While the year 2020 hasn't presented what many of us envisioned for ourselves, we still have much to look forward to. To the art teachers that are currently at home, work towards the exhibition slated for later this year. To the photographers, work towards Vision 2020 exhibition. You have until April 17 to submit entries for the photography exhibition. To persons who love to create, do just that.
The creative industry encompasses everyone within the fields of visual, literary and performing arts. I read a poem recently that I'll share with you as a means of encouragement during this season.
Guyana Dreaming
(for Aubrey Williams, Guyanese artist)
Smell of old ancestor blood
smell of conquistador
colour of the bible
colour of the sword
Turquoise blue of morning
dark of jungle night
yellow breast of toucan
green of parrot flight
Red of Mayan warning
Kaieteur smoking white
rituals of colour
in dawn of forest-light.
The jugular of the heartland.
This is what you go for –
Paintings arising like
great forest-spectres
or faces emerging
from the brushstrokes
of a dreaming archaeologist
artefacts brought forward
from fall of old empires –
a resonance of colours
and always that space
you reserve for fire –
holding the landscape
like your palette
while speaking with the stars.
Octaves of the interior
This is what you go for –
Inviting us through
bone-flute of rivers
down crescendos of rapids
past that Olmec head
standing guard at the entrance
of your painting's music –
sometimes growing apocalyptic
as your love of Shostakovich
or soft as the sound of a far-off-waterfall –
the invisible presence of birdcall
as you conduct your brush's wand –
your symphonies between
a burning present and a dreaming past.
The man who comes to shake your hands
on the streets of Georgetown.
The man who, once a month, brings down
his dray-cart packed with country folk
to see your exhibition –
and you, moved, humbled to tears
by this simple paean –
this salty gaze that sustains
your own renaissance
you on going epic of the Amazon
Your striking African-Mayan face
that captured Picasso, old-world maestro,
whose first words by way of introduction were:
"You have a fine head. You must pose for me."
But you wanted a dialogue,
not a sitting between master and exotic.
So you moved out of his eyes' hypnotic orbit,
his well-known fascination with African masks.
And as you moved away, all the old
gods of the New World rank
forming a ruing of fire around you – young, proud,
already carrying the seeds of your own masterpieces.
By Grace Nichols