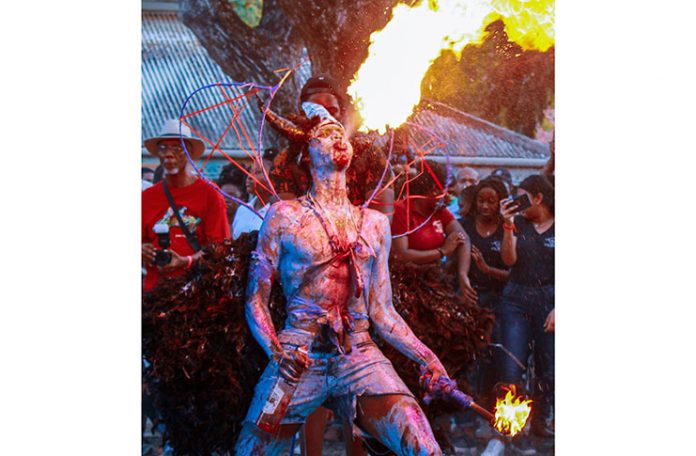 By Vishani Ragobeer
Carnival in Trinidad, by every definition, is culture. Whether it is the fete after fete (after fete, after fete), or the tangible pieces of Trinidadian heritage preserved each year through Mas, Trinidad is the place to see exactly how culture is the beating heart of any society.
This year's carnival was my first, and I know for a fact, this is the beginning of a long-lasting relationship between me and the Twin Island Republic.
While I was back in Guyana, I believed that Machel Monday (usually held the week before Carnival Monday) was the kickstart to carnival celebrations in Trinidad. I could not be more wrong. As I came back in mid-January, the festivities had already begun. Trust me when I say, fete is as normal as waking up and going to school every day. And if you think living on a student budget was tough, imagine living on a student budget in the 'feteland'.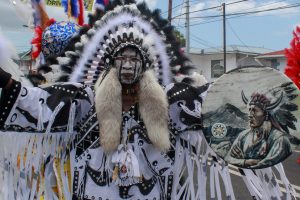 Nevertheless, if there's a will there must be a way and I was able to thoroughly immerse myself in almost all aspects of carnival. Naturally, I had to find myself in a fete (or two… or a few). This year, the King of Soca, Machel Montano sang his Machel Monday swansong, as he got married in a style aptly befitting a king, i.e., on his stage in front of thousands of his fans. I may have missed the final Machel Monday, but I was ready for Kes' Tuesday on the Rocks, which, by the way, was an out of this world, magical experience! I say no more.
These were just two of the wildly popular fetes, though. But while fete is 'part ah life', this culture of partying and the 'good vibes' is but only a small part of the culture that envelopes Trinidad. The celebrations have very strong, though not readily discernible, underpinnings in the country's history.
Carnival was a celebration engaged in by the formerly enslaved Africans, adapted from the elaborate masquerade balls engaged in by the French Catholic planters as a "farewell to the flesh" before the Catholic Lenten season. This was a 'high-class' celebration, but the formerly enslaved took adapted this as a means of defiance and rebellion and transformed it into a rich cultural celebration encompassing aspects of their African heritage.
In Trinidad, in particular, carnival had its genesis in "Canboulay". According to writer Ray Funk, Canboulay represented a ceremony of resistance in which African dance, theatre, and music combined in street theatre as part of Carnival, with stick fighting, drumming, singers and flambeaux ('blowing fire').
At 4:00hrs the Friday before Carnival Monday, Piccadilly Street was filled with people eager to see the reenactment of the Canboulay Riots. Waking up and travelling to Port-of- Spain for this in the wee hours of the morning was a struggle, but definitely worth it.
The Canboulay riots occurred in February 1881 in Port of Spain, the capital of Trinidad and in the southern cities of San Fernando and Princes Town in February 1884, after the British tried to crack down on aspects of the Trinidadian carnival. Then, just as you must know in the present day, you don't come between Trinis and their carnival.
At this reenactment of the riots, the other traditional aspects of the Trinidadian carnival were highlighted as well. Whether it was the fiery Jab Molassie (or, the blue devils as they are better known), the alluring Dame Lorraines, the graceful but towering Moko Jumbies, to even the Black Indians, these characters are all tangible pieces of the dynamic Trinidadian culture. And carnival presents an annual opportunity for Trinidadians to participate in and preserve their heritage. It is truly amazing to see how involved so many people are in the perpetuation of their culture.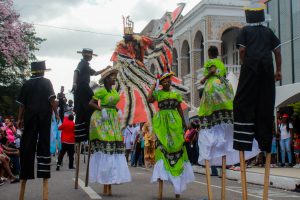 Other parts of the traditional aspects of carnival include the Dimanche Gras (the magnificent showcase of the intricately designed King and Queen characters and costumes) and Panorama. Now, I spent a lot of my time going to parades that were open to the public for free so that I could photograph these traditional characters, so no trouble there. However, it is truly a blessing to be living five minutes away from the Exodus panyard. For most of the past month, I listened to Trinidad's 2020 anthem "Dear Promoter" being played on the sweet pan, an instrument that also has historical groundings for Trinidad. Trinidad basically told me "Yuh want culture? Is culture in ya skin!"
Finally, my carnival experience started to wind down on Carnival Monday and Tuesday, because I did not go to Jouvert (next year's adventure though!) nor did I play Mas. I did, however, travel to POS and got to watch a bit of the parade. And with Carnival Monday and Tuesday being held on the days after Guyana's Mashramani, the parade helped with the feelings of nostalgia and longing for Guyana.
After soaking up all that culture this first time around, I can say that Trinidad carnival is an experience you should have. And, for future reference, undoubtedly, the hardest part of carnival is waking up on Ash Wednesday for a three-hour lecture that starts promptly at 9:00hrs (worse yet, if it's at 08:00hrs).