A dramatic slow stride down the runway by the towering Natasha Alder in a stunning floor-length, strapless dress, with a dramatic tulle train left a lasting impression with patrons when it brought a close to the House of Pearson Couture Show last Saturday at the Ramada Princess Hotel.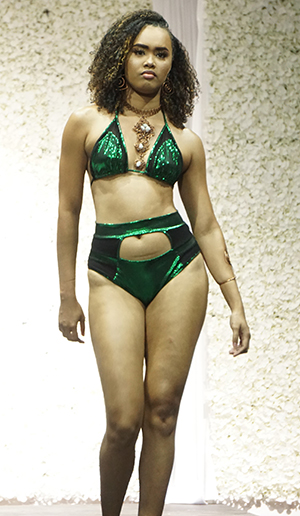 The just over two and a half-hour show featured the latest collections of young local designer 28-year-old Quinton Pearson, and included a spicy "swimwear", chic "resort wear", and subtle "evening wear" and a distinctive "men's evening wear".
The collections all preceded the grand finale couture line which saw Pearson leaving the best for last. It was a women's clothing line that included floor-length dresses, cute little cocktail dress, and leotards.
Pearson played around with some velvet, and sheer, while being big on floral applique and handmade flowers.
In the women's evening wear, Pearson was big on fishtail skirts on the gowns, much like Pierpaolo Piccioli premiered at Valentino's Haute Couture last month; while it also contained a lot of all whites that perhaps had some women in the audience thinking of wedding bells.
The night started with the steaming swimwear where featured a lot of metallic stretch polyester, in mostly two-piece bikinis.
"The swimwear really popped for me," commented Alana Lall.
Lall was accompanied by her friend Tiffany DeSantos who was more smitten with the couture line, gushing over a long-sleeved, sheer sequined piece in particular.
Forty-one-year-old Nicola Foo more favoured the women's evening wear, saying that: "I loved the variety, I loved the uniqueness especially the wedding dresses."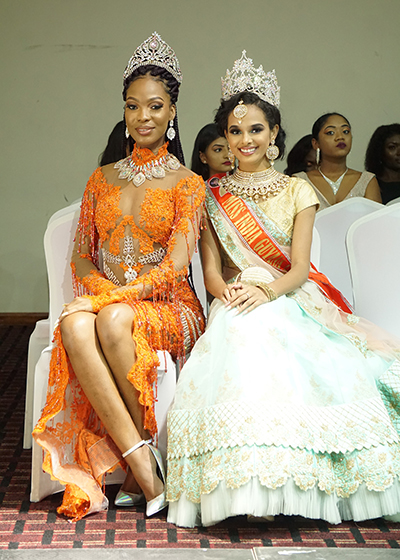 The night's audience included the reigning Miss Earth Guyana Faydeha King, and Miss India Guyana, Rashena Haniff, as well as renowned pageant coordinator, Negla Brandis.
Throughout the night the fashion lines were interjected with performances by former Miss Guyana Talented Teen, Tiffani Bonner and Jackie Jaxx, who did a rendition of her famed, spine-tingling original piece "Guyana". Both Bonner and Jaxx did their performances donning pieces from Pearson's collections.
The show's décor was definitely well put together, and the music that accompanied each line was just what it needed to be setting an ambiance for a night of elegance.
Notwithstanding the glitz and glamour the show was not without its fair share of multiple and continuous technical difficulties and glitches that Guyanese still need to iron out if we really are to raise the standard of fashion shows in Guyana.
There were a few "nip slips", and the night was plagued with mic issues. Naturally, the show started with the customary "we're sorry for the late start" that seems a staple at more Guyanese events than it should be. Scheduled to start at 20:00hrs, the show started at 20:45hrs, but of course attune to the culture some of the attendees were unsurprisingly still trickling in at 21:00hrs.
Bonner's first performance of the with a male partner. Bonner came out on the floor sans partner and apologized before rushing back to find him. There was also Jackie Jaxx's performance, where she was left wondering if the DJ knew she was on stage and had to prompt him to start her track.
Quinton noted that he was pleased with the show and the reception and thanked everyone who supported. The show was held in collaboration with makeup company Bromeliad.rnc who was the official makeup sponsor of the event. Other sponsors included Perfect U Salon. Agie's Dominican Salon and De Sinco Trading who also had a booth at the event.
Ticket bearing patrons of the show were offered various discounts at a pop-up shop that Pearson subsequently held.